Fifty Shades of Grey Director Sam Taylor-Johnson told Deadline she will not be returning to direct the sequel. We previously reported Taylor-Johnson and Fifty Shades author E.L. James sparred a bit over the film's artistic vision, and it's unclear how much their beef impacted this decision.
From Deadline:
"Directing Fifty Shades of Grey has been an intense and incredible journey for which I am hugely grateful. I have Universal to thank for that. I forged close and lasting relationships with the cast, producers and crew and most especially, with Dakota and Jamie. While I will not be returning to direct the sequels, I wish nothing but success to whosoever takes on the exciting challenges of films two and three."
Who will take over?
There is no word on a replacement helmer for Part II of the erotic romance series. Jamie Dornan will be back into the fold as billionaire Christian Grey and Dakota Johnson will return as Anastasia Steele. Each is under option deals for the next films.
G/O Media may get a commission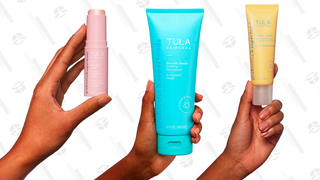 Ok but really. Who gonna direct the next one? Tyler Perry's 50 Shades of Grey 2.
Image via Getty