A few times a week, I get an email update from my close friends TLC about their upcoming album, the one that's funded through Kickstarter. Since I contributed $15 to the cause—which now that I think about it, wasn't enough; I'm a horrible friend—they've sent me 11 Project Updates, all with the same subject line: "TLC is BACK to make our FINAL ALBUM with YOU! by TLC." Even though I've joked about the desperation of this, I click and read each email just to see what's new, to feel a little closer to the group that had a 13-year-old me lip-synching in the attic.
Every email update is triple dipped in positivity, with more exclamation points than my cynical heart can handle. The timing of it all is incredible: a once-unstoppable veteran girl group (minus one member) struggling to get their swan song produced right as the only major girl group standing, Fifth Harmony, successfully sweeps up the ashes of the recently reunited-then-disbanded Danity Kane.
Like DK, the individual members of Fifth Harmony were chosen (by Simon Cowell through auditions via X-Factor) because they fit the description of what a girl group traditionally looks like: pretty and diverse with a generally optimistic outlook on life. You can hardly distinguish who's who, visibly or vocally: Dinah Jane Hansen, Lauren Jauregui, Ally Brooke, Normani Kordei, and Camila Cabello are one and the same.
This is another girl group that was cobbled together, which seems like the only way to make them now. They're another girl group that has to make songs for the ladies and one that'll endlessly be referred to as girls even though they're women. Is it a form of sad-clown performance art for these bands of women to put on a happy face and be the picture of empowerment? It's the burden of girl power, more complicated than what boy bands face, with added pressure to be the perfect girl group because there aren't any other girl groups.
Reflections, Fifth Harmony's very solid debut album, swats at some of those stereotypes and pressures by celebrating it and subtly poking fun at it. Some of it gives into the sweet-but-cocky demeanor and quote-unquote man-bashing that girl groups are expected to embody. Some of it challenges that. But the mission is fun. It's hopelessly devoted to deflating dudes' egos, dramatizing party life (never ends!) and projecting confidence, all with pockets of over-singing.
"Them Girls Be Like" is a literal translation of the "So-and-So Be Like" meme, with tongue clicks for a beat: "Do my [gasp] look fat?/ Should I call him back?/ Wear my hair like that?/ Do he make them stacks?/ If you ever been around us then you'll hear us/ Talking all that crazy ssh like we do." The title track, "Reflections"—which has a springy rhythm like "Fancy" and yet I love it—is a role reversal that plays on cheesy come-ons: "Where you from, must be heaven/ You'd be rich if looking good [Ed Note: It's pronounced goo' here] was your profession/ Think I'm in love, 'cause you sexy/ Boy, I ain't talkin' 'bout you, I'm talkin' to my own reflection." Self-flexing.
G/O Media may get a commission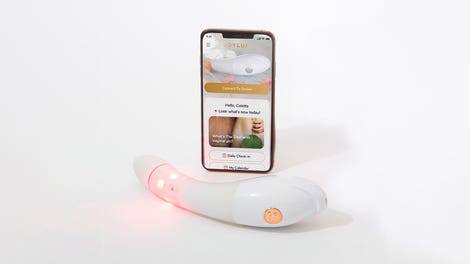 $50 Off
Joylux vFit Gold Device
Reflections overall is a little too primped, with few signs of insecurity. I'm missing the unprettiness. But then I remember these are all young women—all born in the mid-to-late '90s—and this isn't Brownstone. There's at least an effort from them and their songwriting team to explain the complexity that people try to strip away from a girl group or a feminist or a feminist girl group.
"Bo$$" is the epitome of a record that might—does—evoke a sense of embarrassment if you're an adult listening and actually liking it (guilty): It's all claps and over-the-top cheekiness and the chorus is: "Michelle Obama/ Purse so heavy, getting Oprah dollars." The lyrics are rapped with a feigned attitude: "Looking for the money 'cause that's what my mama taught me/ So ya ass better show me." It rings 3LW.
The song I played on repeat was "Going Nowhere," where they command a dude to stay in his place, which is with them. "First off, give a girl some credit," it starts. The rest cops to flaws ("I don't always do the right thing") and more than coming off clingy, the point is that their love is too good to abandon: "You'll be sorry if you say goodbye/ Yes, I want you, but I don't need you/ You should be happy I'm still here."
I was tempted to hate "Worth It" off bat because the opening horns gave me shades of Macklemore's "Thrift Shop." Then the melody from the Luniz's "I Got 5 On It" / Club Nouveau's "Why You Treat Me So Bad" kicked in and saved it. Plus, it's a jam about being worshipped that quotes Beyoncé: "I may take a lot of stuff/ Guaranteed I can back it up."
Fifth Harmony started out partially as the by-product of a man's vision, and it's worth noting that they're descendants of the girl groups of the '60s who performed double duty as male-manufactured inventions and as essential voices for women with real concerns and feelings. What attracts a Daria like me to these sugary pumped-up records is that I take them seriously enough because of that. I'm eye rolling and body rolling, because the girl power anthem speaks to unity and it also feels good to hear. On "Bo$$," they sing, "I pledge allegiance to my independent girls in here/ So if you with us, come on let me here ya say yeah, yeah, yeah, yeah."
It's not that groups like Fifth Harmony aren't allowed to be depressed, but I'd think there's an urge to always temper any negativity with positive thoughts, instead of making like an entire sad girlz album. In a recent interview, Camila Cabello told Billboard, "The whole girl-power thing wasn't as heavily intertwined before. We're more aware of it now," which made me wonder what sparked that and when. There's also a moment of sadness in that interview, but it's not allowed to linger:
"We like that when girls look at us, they don't see perfect little blond-haired, blue-eyed Barbie dolls," says Jauregui. "We all have different body types and different skin."

"We have different Barbie dolls, too!" adds Cabello, referring to the line of dolls made in their likeness that Mattel released in 2014.

"We couldn't afford Barbies when I was little," she continues. The others go quiet for a beat, until Jauregui breaks the silence: "That's amazing, then, that now your face is on one." They all high-five each other.
It's clear they agree on their collective mission of looking at the bright side.
This wasn't an album I was pressed to hear. I knew I liked "Sledgehammer" and their cover of "All I Want for Christmas Is You" but not so much "Like Mariah." Then I got around to listening and liked it, the same way I not-that-secretly jammed to Danity Kane's first two albums. A few tracks have been added to my Spotify playlist: "Reflections," "This is How We Roll" (for crew outings) and "Everlasting Love," a cutesy dream-lover type song about fate.
I'll listen during train rides or, most likely, right before a night out when I'm doing ironic choreography in my apartment. Specifically, that move where you put a hand on your heart and then spread it out like you're spreading the love, while swaying side to side. That's what girl groups do.
Image via Facebook