Rebecca Mead's profile of Daphne Guinness from this week's New Yorker aims to explain the nature of the heiress/fashion star's appeal. And just what it is that she does all day.
Guinness has been variously described in the press as an heiress, a muse, a socialite, a designer, and an artist, and though all these characterizations are partly accurate, non quite conveys her affect, which is that of a slightly deranged fairy invented by C.S. Lewis. Her aesthetic is often futuristic, but she also appears to have come from a bygone age when getting dressed was considered a demanding form of self-expression, rather than an opportunity to wallow in spandex-enabled comfort.
We already knew that Guinness hates being called "eccentric" — here are some other things you might learn about Guinness in the story:
"Once, in Malibu, she lost a nineteen-thirties Cartier bracelet in the sand; after searching for it in vain, she remarked to a friend, insouciantly, that someone with a metal detector would have the find of his life."

The change in Guinness' life wrought by her 2000 divorce from Greek shipping magnate Spyros Niarchos, whom she had married at 19, was significant. Says a friend (who should probably be familiarized with the New Yorker's own Stop That Metaphor department): "She had been in this jewelled Fabergé cage, which turned into a pressure cooker, and then she came out of it like Venus on the half shell."

Guinness' family background is aristocracy times money to the nth degree. She is the daughter of Jonathan Guinness, who is a baron and an heir to the Guinness beer fortune, and his second wife, Suzanne Lisney. Jonathan Guinness' mother was Diana Mitford, the writer, translator, and notorious Nazi sympathiser and lifelong Fascist. Daphne was close with Mitford's second husband, the politician (and founder of the British Union of Fascists) Sir Oswald Moseley: "I used to go and stay in Paris with him, and I would sleep in his dressing room, and he would treat one like a complete adult — there would be these fascinating conversations around the dinner table about books, politics, art, whatever. He was a very, very clever man." She was also close with her grandmother, but was apparently disgusted by her politics.


She remains dismayed that Diana never publicly recanted her admiration for Hitler, whom Diana had got to know in the thirties after travelling to Germany to visit her sister Unity, who had become part of der Führer's inner circle. "My grandmother had grown up in the countryside, and she hadn't been to school, and then she goes to Germany, and Unity is there, and then she becomes very friendly with him," Guinness said. "I can't imagine he was charming — he's the most uncharming person I've ever seen, Hitler." She recalled discussing the matter with Diana. "I said, 'Granny, it just can't be right,' and she just said, 'He didn't photograph well.' She said he was very, very funny." When the war broke out, Diana spent three years in London's Holloway prison. "She told me she read a lot of Racine," Guinness said. Meanwhile, when Britain declared war on Germany, Unity Mitford shot herself in the head. "Why didn't Unity shoot Hitler instead of herself?" Guinness said. "Then we'd be descended from heroes instead of from villains."

Although Jonathan Guinness cheated on Daphne's mother, and fathered three children by a "hippie masseuse" who went by the nickname Shoe, and although Daphne Guinness remarks that her mother "was obviously not entirely happy with the situation," she has herself been romantically involved with a married man, the philosopher and writer Bernard Henri-Lévy, since 2005. Lévy remains married to the actress Arielle Dombasle. Guinness called him "the love of my life" in the pages of Harper's Bazaar.

Wondering what was in Daphne Guinness's green alligator Hermès bag on the mid-July day when she met writer Rebecca Mead in the Garment District? Her wallet, plus "a pair of noise-cancelling headphones and a copy of Marcus Aurelius' Meditations." That day, Guinness spent $6,000 at a fabric store.

She wears a customized shade of red nail polish.

She says things like, "I'll eat when I'm dead."

"Guinness's clothing collection, which she keeps in her homes in London and New York, includes twenty-five hundred garments, four hundred and fifty pairs of shoes, seventy hats, and two hundred handbags."

Guinness considers what she had in common with Alexander McQueen and Isabella Blow was their "romanticism."

She can sing. She had ambitions to train as an operatic soprano, but married life intervened. "Spyros didn't like classical music, poor him; people either like it or they don't, and you can't criticize someone for that. I would go off and do it somewhere where he couldn't hear me. And he used to think it depressed me, which it didn't."
G/O Media may get a commission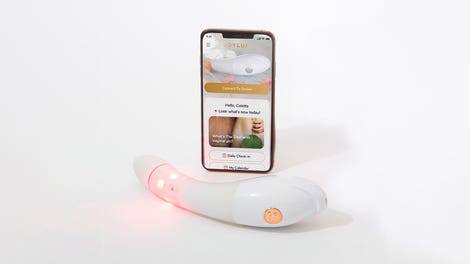 $50 Off
Joylux vFit Gold Device
Precarious Beauty [The New Yorker]