There's no way to sugarcoat it: Fergie's video for "LA Love" is a hot-ass mess.
First of all, what's going on with that calavera? Día de los muertos is not a year-round thing, Fergie, and this shit has cultural significance that you can't just pick and choose and papier-mâché a bootsy version onto a cot damn party bus any old time you feel.
Secondly: this video comes across as though Fergie was trying to appeal to the widest possible range of wack people she could possibly muster. (Which I guess is appropriate for a wack song that actually jacks *gulp* Iggy Azalea's appropriative flow!) There are individuals of current cultural relevance, like DJ Mustard (who produced the track), YG (who guest-rapped), Rae Sremmurd (who are generally Important), and Ryan Seacrest, who is the most powerful man in the world. But then it's like a weird stream of people gleaned from the land of yesteryear: Wilmer Valderrama! Hilary Swank! Taylor Momsen (aka Little Jenny from Gossip Girl)! And Chelsea Handler holding a crying baby wearing sunglasses while a hooptie on hydraulics pops nearby which is not dangerous at all, or reminiscent of La Gwen. Speaking of La Gwen, what's up with the geishas? Does Fergie miss her Harajuku girls? CAUSE THE REST OF THE WORLD DOES NOT.
Sen Dog is cool, though.
Anyway, I don't know why YG agreed to be on this shit, except I do and it's called a check. Ugh, this life is exhausting.
G/O Media may get a commission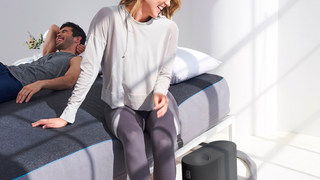 Eight Sleep Pod Cover