Lauren Silberman, the 28-year-old MIT graduate and ex-club soccer player gained notoriety in February for having become the first woman to be allowed to compete in one of the NFL's regional combines. Silberman, who claimed that she could kick 60 yards, was competing to be a kicker, but was unfortunately forced to drop out after only 2 kicks after becoming injured at this weekend's tryouts.
Sadly, her completed kicks did not impress the judges. The first, where she became injured having torn her quadricep, only went 19 yards and the second, completed on a hurt leg, only went 13. While this was Silberman's first time competing in football on a professional level, the staff behind the regional combines do not regret bringing her to the New York Jets practice field.
NFL director of regional combines Stephen Austin tells the AP:
''Our job is to evaluate talent and not leave any stone unturned...We want young, athletic people who have played a sport, typically in college or military or small schools ... Until they get here, we don't have any idea of what they're really going to turn out to do and how they're going to perform."
Silberman's combine got more than 10 times the media attention of combines in the past. While some outlets are taking a positive spin on the athlete's tryout, others are calling her attempt "embarrassing," "botched" and ego-bruising.
Regardless, Silberman hopes that her involvement will shine a spotlight on women in sports, saying ''I'm just really happy I had this amazing experience...I might be the first woman trying out for the NFL, but I certainly hope I'm not the last.''
G/O Media may get a commission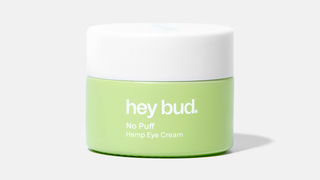 15% off
Hey Bud - No Puff Hemp Eye Cream
Lauren Silberman, first female kicker to try out at regional combine, lasts two kicks before injury [Yahoo! Sports]