The Fyre Festival, a fancy multi-day music event in the Bahamas that promised an experience fit for a king or queen, turned into what attendees called a wretched "dystopian" debacle that makes Gilligan's Island seem like a cool vacation destination.

The festival—created by Billy McFarland, a rich entrepreneur, and Ja Rule, a rapper whose biggest hits were in the 2000s—was scheduled to take place over two weekends, April 28-30 and May 5-7. The location: the Exuma islands in the Bahamas. Organizers have since postponed the festival, leaving guests stranded in the Bahamas, with multiple reports about the entire event being chaos and a scam.
Attendees have described the festival as a nightmare, with flight delays, unsavory dining options and generally horrendous organization, an experience that cost them thousands of dollars ($4000 to $250,000 for a group VIP package). Via CNN:
Those who shelled out up to $12,780 for the luxury weekend in the Exumas found themselves Thursday treated to mass disorganization, half-built tents, feral dogs, and catered food that was little more than limp cheese sandwiches.
For Ja Rule at least, the festival started off promisingly...
G/O Media may get a commission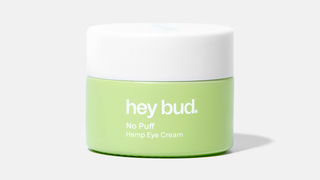 15% off
Hey Bud - No Puff Hemp Eye Cream
Posted in January, a video (below) promoting the festival features models like Bella Hadid and Chanel Iman partying near fancy boats. Organizers promised a stay on a "private island" and the use of "modern, eco-friendly, geodesic domes," according to reports. The lineup was set to include acts like blink-182 (who later dropped out), Pusha T, Migos, Rae Sremmurd and... Tyga.

Signs of disarray were clear leading up to the festival. On April 17, Page Six published a piece about the organizers being "in over their heads" and cited a series of scheduling conflicts:

A source says that attendees have not yet seen pictures of their villas" on the fest's private Bahamian island. Another source said, "It feels like they have good intentions, but are out of their league … Several companies bailed on working with them because they were very disorganized. They don't return calls."
There were also issues with booking acts:
The Wall Street Journal reported this month that the fest missed deadlines to pay musical acts. (We hear the bands have since been paid.) The report added folks were "nervous, as the festival's 'concierge' team has been slow to provide them with logistical details."
The reports might not seem so bad compared to a typical festival that involves long lines, rude crowds and dirty conditions. Festivals are guaranteed to be bad in one way or another, and the Fyre attendees willingly spent tons of money on this event. But the experience might have been better digested if it weren't presented as a luxury affair.
Instead of luxury, various issues with flights, itineraries, food and lodging have been reported, some of which the Twitter account, @FyreFraud, has shared through tweets and retweets.
The complaints from attendees, via Twitter and Reddit, are meanwhile a combination of tragic and comical, though keep in mind that these reports are uncorroborated.
One particular Reddit user reported that "the luxury boutique accommodations are literal disaster relief tents with beds in them" and that "the gourmet chef food handed out so far is two slices of bread, cheese slices and a handful of greens in a styrofoam container."
When you visit the Fyre Festival site, you're greeted with a statement that reads in part:
Due to circumstances out of our control, the physical infrastructure was not in place on time and we are unable to fulfill on that vision safely and enjoyably for our guests. At this time, we are working tirelessly to get flights scheduled and get everyone off of Great Exuma and home safely as quickly as we can. We ask that guests currently on-island do not make their own arrangements to get to the airport as we are coordinating those plans. We are working to place everyone on complimentary charters back to Miami today; this process has commenced and the safety and comfort of our guests is our top priority.

The festival is being postponed until we can further assess if and when we are able to create the high- quality experience we envisioned.
Attendees have thus spent the day trying to get off the island.
UPDATE [1:26 p.m.]: TMZ reports that, as expected, the Bahamas is losing millions of dollars because of the festival's cancellation:

We're told the Bahamas stands to lose out on millions with the festival being called off ... and tourism officials are devastated. The Ministry of Tourism released a statement saying it's "extremely disappointed" ... especially because it offered to help the fest organizers.

Our sources say event planners were in way over their heads ... grossly unprepared for an expected crowd of at least 6,000.
---
If you have any firsthand experiences with the Fyre Festival and want to talk, get in touch: clover@jezebel.com.