For as long as I can remember, I've always been "too fancy".
I grew up a femme tomboy in rural Northern California (picture San Francisco, and then head 300 miles due north). To give you a sense of what this means, my favorite outfits as a kid were a set of black velour overalls and an off-shoulder tulle A-line dress with a big-ass gold lame rose. I identify as femme-presenting genderqueer - before I first heard that term I used to say that my gender identity was "drag queen" - and I have always loved the performativity of fashion, hair, and makeup.
Once I started developing a serious rack in middle school - I'm barely 5' tall and went from a AA to a D cup between 6th and 9th grade - a lot of my childhood tomboy fashions went out the window because oversized Ron Jon Surf Shop tees simply don't look good hanging off a pair of awkward adolescent boobs. I went through a period of hating myself, feeling grotesquely fat, convincing myself that no boy would ever want me (I hadn't yet fully realized my bisexuality) because my body didn't fit into the '90s zeitgeist's concept of beauty, drilled into me through Delia*s catalogues and belly chains at Claire's. I wasn't Rachel Leigh Cook in She's All That, I wasn't Julia Stiles in Ten Things, I wasn't even Lauren Ambrose in Can't Hardly Wait - however desperately I wanted to fuck Seth Green on a bathroom floor. I was short and chubby and awkward and the clothes that looked so amazing on the pages of my magazines never seemed to fit me right.
So in high school, faced with the fact that I was gonna have to contend with a little bit of chub and these big ol' titties for my whole life (aunts on both sides of my family have had breast reductions), I decided I just had to learn how to own my look. And for me that meant I had to wear things that made me feel pretty and put-together, and it meant that I embraced my cleavage. So while most kids at my Humboldt County high school were wearing Sketchers and flared jeans and hoodies, my typical outfit was a spaghetti-strap tank with a skirt and Hot Topic platform heels. I didn't fit in, but I preferred being "too fancy" to conformity.
I went to college in Oakland, moved back to Humboldt for a few years, and then to San Francisco. None of these places felt accepting of my style; I owned one pair of jeans that I wore maybe twice a year. I would show up to work with curled hair, a circle skirt, and patent flats and be asked "Ooh, what's the occasion?" Part of the problem was that I was working with children, and I had to be constantly aware of how much cleavage I was showing - which got to be not only exhausting, but also depressingly shaming and restrictive. It wasn't until I quit working with kids and moved to Los Angeles, home of my heart, that I was able to explore my full drag queen potential. Here I can wear whatever I want wherever I want, and odds are there is going to be someone dressed just as stylishly or as flamboyantly as I am. LA has the added bonus of being mostly warm and gorgeous, so I can exist in my preferred state: fancy, cute, and shamelessly baring as much skin as possible.
G/O Media may get a commission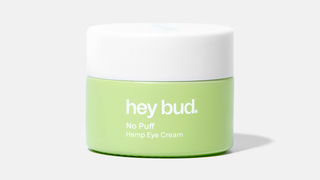 15% off
Hey Bud - No Puff Hemp Eye Cream
Enough preamble! Here are some of my favorite outfits:
My style these days is pure '90s kid fantasy indulgence, a modern amalgamation of Cher Horowitz, RuPaul, Lisa Turtle, Selena, Hillary Banks, and Claudia Kishi, with a heavy dose of Grease and John Waters' Hairspray tossed in for good retro measure. I wear a lot of crop tops, high-waisted skirts and shorts, and lingerie masquerading as actual clothes. My favorite thing to do is curate an outfit so it really becomes a complete "look".
I bought these amazing hand-made shorts drunk on free red wine at a gallery designer sale. The next morning, after a tipsy sexual encounter with one of my then-and-now best friends, I woke up and had a half-second of regret...not about the sex, but about buying these shorts that do look remarkably like bloomers or, say, a prairie diaper. That regret was short lived. They are a statement piece, and they look good with everything, and high-waisted shorts have now become one of my favorite wardrobe staples. Because of the leather trim they have to be hand-washed, but you know what? I'm worth it.
I almost always wear these shorts with my Banana Republic wedges, not only because the wedges are insanely comfortable, but because the combination makes my short little legs look loooooooong and glamorous.
My favorite top to pair them with is either that breezy white crop top (from one of my favorite shops on Melrose, Paper Doll) for a fabulous day look, or with this lace bodysuit from The Pleasure Chest with a statement bra underneath. I love anything that accentuates my breasts - I don't mind people staring and I get the same amount of street harassment when they're covered up. They're a part of my body, and they're beautiful, and hiding them is not an option so I prefer to celebrate my inescapable genetic gifts.
This bra is from Wylie Wilson in Venice. They make their bras using industrial strength elastic and no underwire. They are rather pricey, but insane comfort + gorgeous fabrics + no prison labor + lifetime warranty + making my tits look great = worth it. And because the straps are so thin, it's a great bra for wearing under sheer tops so you can show off the design.
These blue and white turquoise earrings were bought at the same indie designer sale where I bought the shorts, and I almost always wear them together. Because of my gauged ears I rarely wear dangly earrings, but these make me feel casually dressy and I always get a ton of compliments on them.
The ring is a sterling silver cage around a large quartz crystal that I found at a little "spiritual bookshop" in Santa Monica. It's totally one-of-a-kind and makes me feel like a bad-ass woman.
---
This is a classic Eloise outfit - classic in the sense that I wear various permutations of it all the time, and classic in that I have owned this Fraggle Rock shirt since high school. One of my favorite things to do back then was cut the necks out of crew-neck t-shirts - I used to wear this shirt regularly when I was working with kids, and a few months ago I dug it out of the bottom of my dresser, cut the neck even wider, sliced off the bottom half, and made a super adorable crop top out of it.
The skirt is a navy blue circle skirt from, again, Paper Doll. Paper Doll and its sister store across the street, Chantell, are great little boutiques where you can find clothes that are trendy and inexpensive while still being unique and well-made; if you're in the LA area I can't recommend them enough. Although this skirt requires relentless ironing, I love it because it's light and breezy and has pockets and a cute yoke waistline. I've lost a little weight since I bought it so it doesn't fit neatly around my waist anymore, which makes it the perfect candidate for SUSPENDERS!
I had been wanting a pair of suspenders for so long and kept forgetting to look for them, but I bought these on sale at Express last year and they are just phenomenal. They keep me from having to buy new items or alter the ones that are too big and they take a boring outfit and make it into a LOOK. Sometimes I'll put brooches or buttons on them, but with the Fraggle Rock tee that becomes a little much. These are actually men's suspenders, and the tomboy in me loves to incorporate menswear - silk ties are another favorite - into my super girly outfits.
The boots are 100% '90s chunky heel revival from Steve Madden, and they're the perfect way to butch up a skirt or dress or just to engage in some fun Rayanne Graff cosplay. They're comfortable and very day-to-night and an easy solution to wanting to be dressed up without feeling too dressed up.
I bought both of these rings from this incredible little jewelry shop I found in the West Village called Christopher 19. I have a serious penchant for massive cocktail rings and, after most of my jewelry was burgled last year, had some insurance money to spend. I was in New York for a few weeks and stumbled into Christopher 19 on a rainy March afternoon and stayed there for hours talking to the salesperson, this amazing Spanish woman in her fifties named Montseurat wearing a huge red tartan skirt and lipstick to match. I actually originally bought a malachite ring, but it was too big so I went back the next day to see my new friend and exchange it for this awesome and versatile pyrite version instead. The other is 14K gold with a Herkimer diamond, which has long been one of my favorite stones - it's a form of naturally-faceted clear quartz - and is supposed to bring the wearer wealth (I'm still waiting for that to kick in).
Since I live in LA and drive everywhere and can be doing a number of different things during any given day, I often leave the house with 3-5 wardrobe changes to make sure I'm always as sharp and/or comfortable as I want to be. With this outfit, if I didn't want to deal with a whole other dress to change into, I would bring along a tank top and cardigan and maybe some heels if I wanted to take it uber-femme. This cardigan is one of my all-time favorite items; it was my great-grandmother's, and was custom made for her in the '30s in Beverly Hills. It's cashmere, and in absolutely incredible condition - no holes, and none of the pearl beading has fallen off. My dad's grandmother's name was Eleanor LeBel, and she gave it to my mother, Ellen, when she married my dad, and this year Mom gave it to me, Eloise. So not only is it an incredibly beautiful and luxurious garment, it's also makes me feel connected to my family any time I wear it.

---
Finally, this is an Alice for Temperley of London dress that I found on sale at TJ Maxx for an incredible price. I would get married in this dress. My friend who took these photographs said, "You look like a priestess in a Greek temple!" It's one of those articles of clothing that manages to highlight everything I love about my body. Though I've only had occasion to wear it once - to the Magic Castle - this is LA and it's always good to have a flattering formal gown in case you need it; last year I went to a few award shows and, if I get to go to the Emmys again, I'll definitely be wearing this dress.
The shoes are a fabulous pair of Aldos that I bought for a friend's wedding a few years back; they're my favorite way of making a dressy outfit a little more fun and playful. Plus - again with the platform wedges! - they're crazy comfortable. A flamboyant statement piece is, to me, the best way to bring together a look.
---
Being in Los Angeles and not having a traditional office job certainly makes it easier for me to play around with my fashion, but I really encourage everyone, everywhere, to wear whatever they really want to wear. Buy those outré stilettos. Put on that brilliant red lipstick. Try your hand at false eyelashes. Celebrate your sexy body, whatever shape you are. If people are staring at you because you're "too fancy", it's only because they wish they had the courage and the confidence to be as glamorous and stylish as you.
---
Eloise LeBel is a Los Angeles-based writer of various concerns, including her blog Sexistential Questions. You can find her on Twitter at @eloiselebel.