A federal judge has told Alabama that they can't cancel Planned Parenthood's Medicaid contract, ordering them to reinstate the non-profit into the program. Alabama is one of several states who are trying to boot PP out of their Medicaid programs on the basis of sting videos produced by the anti-abortion Center for Medical Progress. Planned Parenthood locations in Alabama don't accept fetal tissue donations or perform abortions.
Alabama Governor Robert Bentley announced in August that he was trying to terminate Planned Parenthood's Medicaid contract, issuing a statement that read, in part, "The deplorable practices at Planned Parenthood have been exposed to Americans, and I have decided to stop any association with the organization in Alabama."
But federal courts have ruled repeatedly that Medicaid patients have a right to choose the medical provider of their choice, so long as the doctor or clinic takes Medicaid. States reimburse medical providers for Medicaid-covered services, which in most cases doesn't include abortions.
Planned Parenthood Southeast, the PP affiliate in Alabama, didn't perform abortions or accept fetal tissue donations, Al.com found:
Records provided by the Alabama Medicaid Agency in August showed it had paid for $4,351 for services to patients at Planned Parenthood's two Alabama clinics over the last two years. The payments were mostly for contraceptive services and did not include abortions.
Thompson's order today updates those numbers slightly, saying the two clinics have received about $5,600 in Medicaid funds for services rendered during the last two fiscal years.
G/O Media may get a commission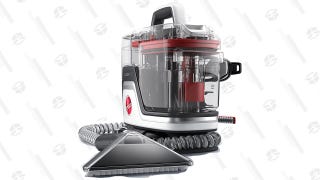 Save $10
Hoover CleanSlate Plus Carpet & Upholstery Cleaner
Planned Parenthood Southeast and a patient identified only as Jane Doe sued the state. (In court documents, Doe is identified as a Medicaid patient who visits the Birmingham PP clinic every three months for a Depo-Provera shot.) On Wednesday, U.S. District Judge Myron Thompson issued a temporary injunction ordering Bentley and the state's Medicaid office to reinstate PP into the program.
In his opinion, Judge Thompson notes that Governor Bentley said he had "no plans" to terminate Planned Parenthood Southeast's Medicaid contract before he watched the CMP videos. That doesn't mean he didn't have any strong feelings about Planned Parenthood or abortion generally, because he sure did:
But the governor's personal belief that PP is violating state or federal law isn't a good enough reason, legally speaking, to kick them out of the program, the judge ruled. His ruling also points out that the governor's letter to Planned Parenthood didn't offer any real reason why PP was being booted from the program or offer them any real legal recourse.
Thompson ruled that Doe would face "significant harm" if she couldn't visit the medical provider of her choice, and that she'll likely win her suit (or, as he put it, she's "very likely to succeed on her claim that the Governor's termination of PPSE's provider agreement violated the Medicaid Act.") Alabama, on the other hand, isn't being hurt at all, he wrote:
As discussed above, Doe will face significant harm if an injunction does not issue. The Governor and the Acting Commissioner rely on the videos' claims that the fetal-tissue donation programs of some PPFA affiliates breach ethical standards to argue that the continued funding of PPSE through taxpayer dollars would itself cause an injury to the State.

This argument is not persuasive because the defendants do not dispute the plaintiffs' assertions—or the evidence in the record—that PPSE does not engage in fetal-tissue donation. The practices purported to be portrayed by the videos, therefore, cannot possibly cause any harm to the State or to Alabama taxpayers.
Governor Bentley hasn't yet commented on the ruling.
---
Contact the author at anna.merlan@jezebel.com.
Public PGP key
PGP fingerprint: 67B5 5767 9D6F 652E 8EFD 76F5 3CF0 DAF2 79E5 1FB6
Governor Robert Bentley, pictured in March 2015. Photo via AP Images