In December, Free People issued a catalog full of Woodstock-y, Summer Of Love-ish, hippie-dippie threads being sold for preposterous prices. Not much has changed! Ahead: Flower child dresses, bamboo bloomers and overalls so expensive you'll have to sell your VW.
Let's just go ahead and admit that the "sparkle and shine" top is cute with those denim leggings. But our concern should lie with the "Beryll Peacemaker Harness." A bag inspired by the "Wild West Cowboys" and priced at $798. Do you know many cans of beans could a roper or ranch hand could buy with that cash?
G/O Media may get a commission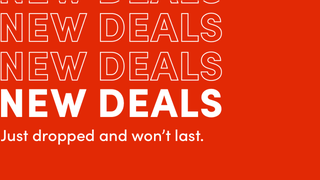 Up to 70% off
Wayfair - Cyber Week Deals
I get that it's fun to dress from a different era. Hell, if I could have costumes from Mad Men, She Done Him Wrong and Auntie Mame in my closet, my head would explode with joy. But isn't it weird to spend $88 on a top from a boutique owned by a publicly traded company (and run by a conservative capitalist) to look like you're part of a counter-culture anti-establishment movement?
Sewing the seeds of love… and fugly.
An irate reader emailed me about these overalls. She pointed out that they are:
1. "Vintage."
2. Tapered
3. Shredded
4. WHITE
and
5. $348
She wrote: "I mean... words do not describe."
I would just like to acknowledge and echo her concerns. Speechless.
Here, "customized" chinos have worn-away marks an imperfections you'll pay $325 for. Well, not you. But someone. As for the bag, you'll need $498 to take that home and ponder why you just bought something that looks like a sea urchin sea shell.
I can't even get into the weirdness of the tube top paired with a flared skirt because I am so alarmed that the bag which looks like the carcass of a dead leopard is $428.
The cami is $98; the shorts are $195; the feather pendant is $24 — meaning there's $317 worth of clothing here! A true Band-Aid would get it all for under $50. Don't you see? It's all happening! No one will sell you to Humble Pie for fifty bucks and a case of beer!
Wait, what? This doesn't go with the rest of the catalog! Oh, wait. It's $348. So it does.
So many thoughts. So many questions. Does someone somewhere actually think this outfit looks good? Is that jacket really $798? Bloomers? Really? Why are those sandals so hideous? What would Marianne Faithfull say?
If your dress is short enough that you need to wear a skirt under it, then maybe you shouldn't wear the dress.
Fringe vest: $648. Photograph of Jimi Hendrix in 1969: $335. Just sayin'.
The reader who emailed me also had issues with this ensemble. What you see here are $195 high-waisted cutoff shorts OVER something called a "Lucky Charm Romper." And $588 knee boots. The only way this is acceptable is if there was a fire, and she had to pull on the shorts and boots while fleeing the flames in the romper. Or maybe this outfit is a nuanced commentary on the softness of women, and how we have to protect our delicate flower selves with a rugged, borrowed-from-the-boys toughness.
Or maybe it's just ridiculous.
This catalog makes me want to give up.
Yeah, no, I give up.
Free People [Official Site]
Earlier: J. Crew: Socks & Sensibilities
Love Don't Cost A Thing: Valentine's Day At Dean & Deluca
Anthropologie: When You Long To Be A French Gamine
January At J. Crew: Sequin Shorts, Shitty Shoes & Other Insanities
Post-Holiday Bloat? Tough: It's Swimsuit Season At Victoria's Secret