Kris Jenner, matriarch of the Kardashian clan, was targeted by a bizarre stalking/hacking campaign which including a fake recording the television star using racist slurs.
On Friday, the FBI raided a room at the Four Seasons hotel in Los Angeles, targeting electronic equipment owned by a woman named Christina Bankston who the agency said was stalking Kris Jenner. Via TMZ:
The woman — Christina Bankston — was at the Four Seasons hotel in Bev Hills Friday when FBI agents armed with a search warrant broke into her room and confiscated her computer, an iPad and other electronics.

Our sources say Bankston — who lives in the San Francisco area — is the woman who was calling Kris up to 300 times a day. She would also call the media, including TMZ, posing as Kris.
Jenner was reportedly the subject of an ongoing campaign of stalking, harassment and impersonation to the point where someone was going around trying to sell what they claimed to be a recording of her saying the n-word (nope, it's not her on that recording, folks). A June incident when Jenner's Instagram was hacked is reportedly one of numerous examples of the hacking and stalking. Gawker has a whole lot more to this story over at their site, too.
As far as we can tell, that's where the recording came from: a talented Jenner mimic, working in concert with a hacker with access to Jenner's iCloud account to wreak havoc on Kris Jenner's life for months—making fake restaurant reservations, setting up meetings with Hollywood executives, stealing photographs, leaking gossip, and even sending iMessages from her account to her husband and daughter. We say "as far as we can tell" because the hacker has stayed hidden and the Kardashian camp won't talk to us except to categorically deny Jenner's involvement.

The exact connection between the previously reported hacking attacks and Bankston, who TMZ implies is mentally disturbed, is still unclear. TMZ and Radar have variously reported that Jenner's Instagram account was hacked, that "pranksters" were making restaurant reservations under her name, and that she'd received threatening phone calls.
G/O Media may get a commission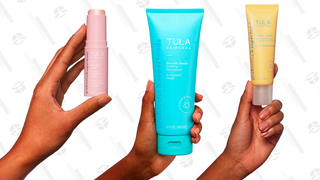 TMZ also has video of the Bankston riding a roller coaster and proclaiming her love for Kris Jenner. It's hard to keep up with everything that's developing with this story, so don't feel bad if you're sitting there staring at your computer screaming "WHAT THE FUCK?" There is going to be more that comes out about this story and we'll be sure to follow up as more develops.
---
We can all stop making our weird unfounded guesses about why Charlie Hunnman dropped out of "Fifty Shades of Grey" (shitty script, didn't like his cast/crew, realized he was about to star in movie that contained this, ILLUMINATI LIZARD PEOPLE CONSPIRACY, Benghazi, etc.)
He has finally gone on the record to explain why he dropped out. Hunnman said he had a "nervous breakdown" of sorts dealing with the demands of scheduling. And from the looks of it, he had good reason to be concerned. Via Indie Wire:
Hunnam explains that he did want to do the project, saying "I wouldn't have signed up in the first place if I didn't want to do it. [But] it was a really really difficult time in my life." The actor says that he "fell in love with the character," but it soon became clear that the scheduling became too intimidating. "I was going to finish 'Sons' at like 11p.m. Friday night, get on the plane Saturday morning to Vancouver for 'Fifty,' missing the whole first week of rehearsal and start shooting Monday morning. And I was going to shoot that film, wrap that on the Wednesday and the following Monday I was going to start shooting 'Crimson Peak' in Toronto. I just had like... frankly, something of a nervous breakdown."
---
Christina Milian is getting her own "docuseries" (aka TV show that looks like a reality show but is totally scripted to create faux-drama by producers) on E!. The show will feature "her two feisty and outspoken sisters Danielle and Liz, and her adorable daughter Violet." [Deadline]
Congratulations to Sara Gilbert who is pregnant with her first baby with her wife, 4 Non Blondes singer Linda Perry. This is Gilbert's second pregnancy and third child (she has two children from a previous relationship). Gilbert currently co-hosts The Talk on CBS. ::insert bad "What's Up" joke here:: [CBS News]
In better Kardashian-related news, Kim Kardashian took the Ice Bucket Challenge on Ellen and it was predictably hilarious. I tried to embed the video to show you here, but I have somehow angered the Internet Gods and will not be able to pacify them until I sacrifice at least 10 gifs of cats to them. [Too Fab]
My heart is breaking to read this news: Cher is sick with a viral infection and as a result, has had to cancel her latest tour. Please get well soon, Cher! [CNN]
Katey Sagal got a star on the Hollywood Walk of Fame! Yay, Katey! In other news, Turanga Leela is still quite pleased with her "Orphan of the Year" award. [Variety]
Highly important Paul Rudd news updates: Reports say he is "ripped" on the set of Ant Man and he also put Jeff Bridges out of work selling cars. [Yahoo UK, Autoblog]
The half-empty glass of Scotch known as Al Pacino is going to appear in Martin Scorsese's The Irishmen with Joe Pesci and Robert DeNiro. Believe it or not, this would be the first time Pacino has worked with Scorsese, which is just CAAAHRAAAZIE. [Ain't It Cool News]
Minority Report is coming back as a TV series for CBS. The show will be a sequel to the movie but Tom Cruise will not appear in it. When reached for a comment about the show, Cruise manically replied "Whatever! I bet none of the people making it are even above an OT 2, man. I don't even care!" and then began to text David Miscavige furiously. [Entertainment Weekly]
Image via Getty.