After a widely disseminated video of a school resource officer pulling a student out of her desk and tossing her like a rag doll at South Carolina's Spring Valley High School, the F.B.I. and U.S. Justice Department are opening an investigation into the incident.

Leon Lott, the Richland County Sheriff, says he asked for the federal probe into Office Deputy Ben Fields' action and will cooperate in any way he can. According to the Daily News, his department is also conducting an investigation of their own, and Lott feels the video of the officer's force against the teen was "disturbing."
Another Spring Valley student named Tony Robinson Jr., who recorded the incident, told local news station WLTX-TV that the situation began over a cell phone.
Around 10:30 a.m., the girl who had the confrontation with the officer was working on her computer, and had her phone out, Robinson said. He said the teacher asked her for her phone, but she said no. An administrator was then called to the room, and Robinson said he pleaded with the girl to get out of her seat, but she didn't.

"She really hadn't done anything wrong," Robinson said. "She said that she had took her phone out, but it was only for a quick second."
While she didn't comply, Robinson said the girl was apologetic.
Robinson added the officer preceded his actions by removing the girl's laptop from her desk and asking a nearby student to move back, which suggested to Robinson that he'd better record whatever was about to happen.
"I've never seen anything so nasty looking, so sick to the point that other students are turning away," Robinson told the Columbia TV station. "They're just scared for their lives. That's supposed to be someone that's going to protect us. Not somebody to be scared of."
As this was happening, another student named Niya Kelly, pictured above, told WLTX-TV that she broke out in tears and curses, which garnered an "I'll put you in jail next" from Officer Fields.
"I know this girl don't got nobody," Kenny explained. "I had never seen... a man use that much force on a little girl. A big man, like 300 pounds of full muscle. I was like 'no way, no way.' You can't do nothing like that to a little girl. I'm talking about she's like 5'6"."

"I was screaming 'What the f, what the f is this really happening?' I was praying out loud for the girl," says Kenny. "I just couldn't believe this was happening I was just crying and he said, since you have so much to say you are coming too. I just put my hands behind my back."
G/O Media may get a commission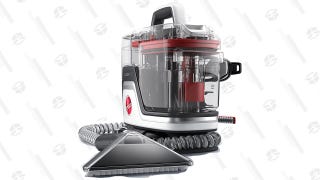 Save $10
Hoover CleanSlate Plus Carpet & Upholstery Cleaner
Kelly, in turn, was arrested for "disturbing schools" and released on a $1,000 bond.
Fields has been with the Richland Sheriff's Office for 11 years and has worked at Spring Valley High as a resource officer since 2008. He's currently facing a federal lawsuit from a black student named Ashton James Reese, who was expelled after Fields accused him of being a gang member. Previously, he faced (and won) a lawsuit in which Fields was accused of using excessive force against Carlos and Tashiana Martin, a couple he arrested in a parking lot. From IBTimes:
The lawsuit claimed that Fields slammed Carlos to the ground, handcuffed him and kicked him several times, because Carlos called him "dude," without meaning to be disrespectful. The lawsuit added that Fields used and emptied a bottle of pepper spray at Carlos. Meanwhile, Clark confiscated a cell phone that Tashiana used to record the incident, threw her against a vehicle, handcuffed her and then threw her into the police car. Fields is also accused of making a lewd comment to Tashiana while she was being driven away.
64 percent of Spring Valley High students are minorities, the majority of them black.
Fields, who also works at a nearby elementary school called Lonnie B. Nelson, has been placed on administrative leave during the multiple investigations. Debbie Hamm, the local District superintendent, has instructed Fields not to appear on any campuses during the investigation.
---
Contact the author at Hillary@jezebel.com.
Image via WLTX-TV.