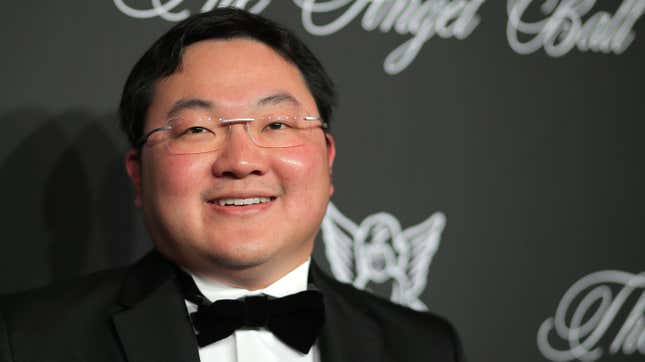 In Emily Ratajkowski's memoir, My Body, the model shares an unnerving anecdote about receiving an invitation to attend the 2014 Super Bowl on the arm of billionaire businessman for $25,000. Though she had her doubts, Ratajkowski's manager offered what seemed like a sound justification for taking him up on the offer.
"He explained that this person, Jho Low, 'just liked to have famous men and women around' and there would be other celebrities going too," she recalled. 'He's just one of those insanely rich guys from Asia.' Jho Low's fortune came from family money, Evan said."
But Low's fortune was, in fact, not ancestral: He allegedly stole $4.4 billion from a development fund connected to Malaysia's then-prime minister, Najib Razak. Ever since, Low—who was once known as "the Asian Great Gatsby," given his knack for spending a lot of time and money on celebrities and public figures—has lived as a fugitive as the FBI investigates him.
Now, a new Bloomberg report further details Low's lavish—and borderline bizarre—gifts to elites. Among the most noteworthy are Kim Kardashian and Leonardo DiCaprio—both of whom, previously undisclosed documents show, were questioned by the FBI in 2018 and 2019.
Per interviews with investigators, DiCaprio revealed Low gifted him a painting by acclaimed artist, Jean-Michel Basquiat. He also bankrolled The Wolf of Wall Street, in which the actor starred. The one-time bosom buddies were known to each other as "Ldogg," and "My man," though DiCaprio distanced himself from the bromance in later interviews.
Meanwhile, Kardashian's connection to Low is a bit more of a head-scratcher. The pair met while partying at a private casino in Las Vegas, and, well, the introduction culminated in something of a jackpot for Kardashian:
"At 5 a.m., Kardashian was ready to leave, but a friend told her to drink some coffee and stick around, because he'd "heard stories of Low giving people chips at the end of the night." As the gamblers screamed "monkey" (baccarat lingo that basically means "I need a 10 or face card"), Kardashian called out which bets to make and won a big hand."
Per her account, she tried to give the winnings ($350,000) to Low, but he told her to keep the chips. When Kardashian cashed out, she told the FBI she was handed $250,000 in "a trash bag full of one hundred dollar bills."
"Kardashian put the trash bag full of cash in her carry-on bag and boarded a Southwest Airlines flight back to Los Angeles," FBI agents wrote. She collected the other $100,000, again in a trash bag full of cash, during a later trip to party with Low in Las Vegas.
$100,000 in a trash bag? On a Southwest flight? Huh. Of course, parting ways with exorbitant amounts of money wasn't uncharacteristic of Low. He once lost $1.75 million during a 90-minute baccarat session, according to Bloomberg.
That interaction wasn't the only one Kardashian had with Low, however. Years later, she told the FBI that he offered her a Basquiat. In response, her then-husband, Kanye West, asked for a Monet—"to mess with Low because both Kardashian and West found Low to be very fickle when giving gifts and never expected to actually receive a painting," the agents noted in the report. Hilarious!
As of 2020, Low was believed to be living in China, but there's no telling where he is now. Regardless, I'm quite certain his friends miss all the free shit.