Breaking news: Chris Brown is still a dick.
But in a backhanded compliment sort of way: he told 'beautiful lady' Karrueche Tran via Instagram comment to 'Don't let the thot form from anger.' Karrueche, meanwhile, will likely continue to do that thing you do when you find out your charming ex-boyfriend has fathered a child with another woman while in the company of your relationship and post 'You used to have this and now you don't'-style photos on social media, and hopefully, move the fuck on.
---
Blah, this is sad: Natasha Richardson and Liam Neeson's son, Micháel, admits that he, at 13, turned to drugs and booze as a coping mechanism after his mother unexpectedly died following a ski injury in 2009. "Everybody said, 'This kid has lost his mum, that's where the problem comes from.' And I was like, 'No, it isn't, I just like to party.' But looking back I realize it was a delayed reaction." [Us Weekly]
---
G/O Media may get a commission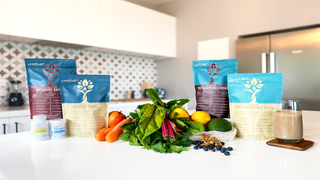 Justin Bieber practically begged all of his celeb friends to have at it during his Comedy Central roast—and have at it they did—but Kevin Hart says that the Biebs might be a bit worse for the wear because of it.
"It was a little rough," Hart laughs. "There were moments where I was like, 'Justin is going to cry in the car. There's no way he's not going to cry.' You know when you look at a person and they're trying to have a good time, but there's a tear?"
Watch Hart imitate JB on Jimmy Kimmel below.
[Esquire]
---
•North West, like Virginia Woolf, enjoys a room/mansion of one's own. [E!]
•Taking a cue from Sinead O'Connor's playbook, Rihanna says she doesn't want to perform some of her hit songs anymore. [Us Weekly]
•Bohemian cowboy Matthew McConaughey took Penelope Cruz on a romantic date in a trailer then dumped her for his current boo because love. [Daily Mail]
•In her next role, Christina Aguilera plays a vampy brunette. [Us Weekly]
•Amber Rose is all for a woman making something out of nothing; invites Khloe Kardashian on her #amberroseslutwalk. [People]
•Beyoncé continues to be perfect/Beyoncé/etc. [E!]
•Katy Perry pretends to be pregnant just to fuck with you. [The Hollywood Gossip]
•Miranda Kerr has always been a babe. [Daily Telegraph]
•Raven Simone said some not so Raven things about Michelle Obama and...geesh, I don't know if I would have went there if I were her. [Bossip]
Images via AP and Getty