Ever had to dress one way on the weekend and another way at work? And maybe a third way for socializing? Does your mind reel at the complexity? W feels your pain. (Not really.)
See, fashion is an industry based on image. Do you follow? Because, W has noticed, one of the effects of this is that people who work in fashion tend to be judged on how they dress. Kind of a lot, even. So many of them take the question of what to wear very seriously! And journalists, well, they find it interesting to write about in great detail without even a hint of the broader economic outlook or the narrowness of the audience that regularly wears $300 t-shirts from The Row and Lanvin flats.
Journalist Vanessa Lawrence's premise is almost too simple to be believed. "Working in fashion," she writes, "necessitates being fashionable from the moment you leave the house. And it is an implicit requirement that can prove exhausting for even the most passionate of clotheshorses....But when the weekend rolls around, they are faced with a dilemma: how to keep up appearances while giving their Yves Saint Laurent Tributes and Balenciaga sheaths a breather-if they choose to do so. Between trips to the gym, brunch dates and grocery store excursions, that 48-hour stretch is hardly a time for hibernation."
That's right. When you work in fashion, in addition to needing always to look your best, you might need to dress differently on different occasions. For instance, the weekend. Or the Hamptons! And any forays to distant nations — like the Upper East Side of New York, also known as "10021 land," where people wear these things called "blazers" and look "decked." What's a fashion worker bee to do?
Weirdly enough, everyone Lawrence quotes still seems to dress really well on the weekends. "When I'm in the Hamptons getting stuff at Citarella on the weekends, I'll see fashion girls who are in Marni and Lanvin in the daytime and I'm in a Tracy Feith cotton dress, Jack Rogers sandals and a ponytail," says designer Shoshanna Gruss, whose idea of 'weekend casual' is wholly relative. Others seem not to grasp Lawrence's issue: "French people don't really 'underdress' on the weekends," remarks a confused Julia Restoin-Roitfeld.
G/O Media may get a commission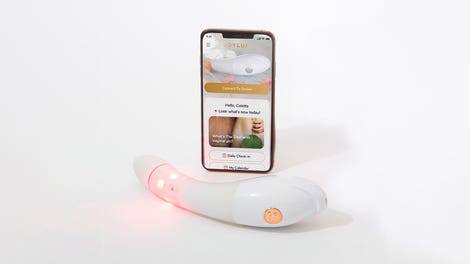 $50 Off
Joylux vFit Gold Device
There are plenty of moments of hilarity as the reporter valiantly tries to get a handle on the problem of what to wear in one's off hours. "Gruss's appropriately pulled-together look extends beyond Long Island summers to her Upper East Side residence," writes Lawrence; what range.
The thing is, anyone who spends a lot of time with magazine editors and stylists and General Fashion Personages knows a few things. For one, most of them do not have a lot of money — certainly not enough to be dropping $800 on stilettos every season. (Whether you've got a friendly quid pro quo going with a label's PR depeartment, or something occasionally goes missing from the styling closet is another issue.) For another, most of these people wear the same things every day. All-black ensembles are the norm, not the exception — because it's easy to look stylish in a dark monochrome, and you can switch out accessories without anything clashing, which is crucial if you spend a lot of time traveling and need to look like you have more outfits than you actually do. There are remarkably few people in fashion who consistently dress in ways that turn heads; pretty much everyone just wants to be stylish and look as nice as they can while they're working.
Which is fine, and normal, and fun — and the total opposite of the sort of sartorial-psychological weekend arms race Lawrence's article conveniently invents and then lavishes with attention, perpetuating the myth that all fashion folk are better-dressed than anyone else, and at all times. The real story is told in the pictures that accompany it: they're little images of the article's subject, photographed going about their daily lives, working in the fashion industry. Nobody looks bad — there's Charlotte Ronson at an event in a white dress and a black cardigan; Restoin-Roitfeld in denim shorts, a blue Oxford, and a blazer; Kate Etter in ballet flats, leggings, a green tunic and a long sweater. But nobody looks "fancy" or as purposefully styled as Lawrence's article implies is the industry norm. These look like outfits that have been doing reliable service in various forms for seasons already, and which will continue to see the light of day for a long time into the future. Bags and shoes might wash over Bryant Park like a tide each season, but a good pair of black pants is for the ages. And even people who work in fashion have enough good sense to know they can be worn on the weekends and to work.
Cartoon illustration via W
Weekend Warriors [W]