Before fashion week, there were reams of stories offering dismal outlooks on the party scene. Nobody was having an after party. Nothing would be the same. The Economy. Etc. I haven't found this the case.
WWD inferred the worst from Marc Jacobs' decision not to throw one of his typical post-show megabashes, as well as the fact that Zac Posen, Calvin Klein, and Alexander Wang were among those who similarly cancelled their party plans. This week, even the New York Times couldn't seem to resist the convenience of the party-over metaphor, casting a vernissage at the new Diesel store as a gathering of lost souls. Welcome to the brave new fashion, where frivolity is out and celebs don't pack the Beatrice Inn. Except it didn't happen that way.
I'm no gadfly compared to some, but I go to the occasional night spot, and I can't say I've noticed any appreciable difference in the quality or tone of revelry on offer this season. Maybe I wasn't going to the echelon of party that was canceled to begin with. But this week it seemed like there was the same familiar mixture of people in day-glo accessories, fedoras, Derek Blasberg, your boyfriend's also-a-model ex, and cash bars as ever. Perhaps I've always sensed a ticking heart of melancholia at the center of these kinds of gatherings, where the dance floor has air quotes and everyone puts up the tiresome pretense of not mugging for the party photographer, even back when the economy was gaining ground as opposed to ceding it. (But that probably has always said more about me than about my surroundings.)
Earlier this week I actually saw Lara Stone in person, and I couldn't help but unabashedly stare at her while I stood waiting to pay $18 for a martini that proved to taste like it had been mixed inside an empty orange juice carton. I also saw a man dressed in chain mail and a guy who had light-up rods, actual spiny, glowing bones, sewn onto the outside of his black gloves, like an extra from Blade Runner. Alexander Wang was being congratulated on the stairs, and someone wanted to go to the Purple party, but someone else was like, "When is Olivier Zahm ever not at the Beatrice?" and frankly it all felt very September '08, which is to say it felt very much like any other fashion week. It was sniffy noses and ironic flannel and heavy eyeliner. It was Blackberries and coats that looked like muppets killed for a good cause and testing your clout by lighting that cigarette inside. The other night someone who looked about 19 asked Patrick McMullan who he was shooting for. "I would've recognized your son, I think," she said, semi-apologetically.
Every story this season is about how fashion has become such a terrible, morose End Times-y affair. The narrative is that before, shows were always buoyed by the rising tide of economic good fortune and front-row bold-face names and the parties, they were always terribly glamorous and fun. Now shows are always things you sneak into out of the drudgery of obligation, and when you're caught in the act, you give mealy quotes to the press about how sorry you are, how inconsequential even you recognize it all to be, and how attendance at this particular temple of Baal is unfortunately mandated by your job at this little magazine that covers fashion. And the parties that follow the shows, well, nobody who recognizes the seriousness of Our Straitened Circumstances could possibly acknowledge any interest in such frothy frivolity.
G/O Media may get a commission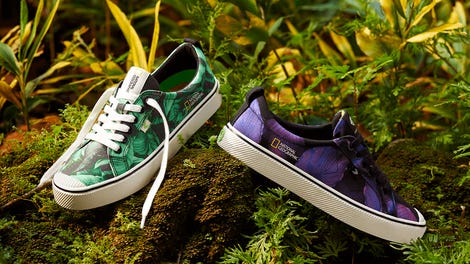 New New New
Cariuma + National Geographic
Thing is, you could have written that kind of story last season, or any other season for that matter. Models were getting paid in trade last season too, and a great many seasons before. Editors have always been people aware enough to acknowledge some self-doubt on the question of the actual relative importance of this season's heel or bag; the fashion set is not dumb. But nobody in the media would have thought to cast any previous season in any such light. The before/after is a constructed narrative, and it's one I'm just getting a little sick of reading. This industry, which I love, is troubled — nearly 20,000 jobs were lost in textile and apparel manufacturing and retail in the month of January, according to the U.S. Department of Labor, and many designers and stores are struggling across the spectrum of price points — but all the deckchairs on the Titanic rhetoric seems like unwarranted melodrama, simultaneously too dire and not serious enough. (The last recession, in the early 1990s, gave us Alexander McQueen, John Galliano, and Marc Jacobs.) It's too early to write fashion off; and it is, dare I say it, frivolous to do so because of some party that was or wasn't thrown.
As The Economy Goes, So Do The Parties [WWD]
Despite Happy Meals, There Are Troubling Signs Around Fashion Week [NY Times]
At Fashion Week, Everyone Looks Sullen, Not Just The Models [NY Times]
Earlier: Chloé Sevigny Party Made Me Hate Fashion Week, Life
I Think I Hate Fashion Week