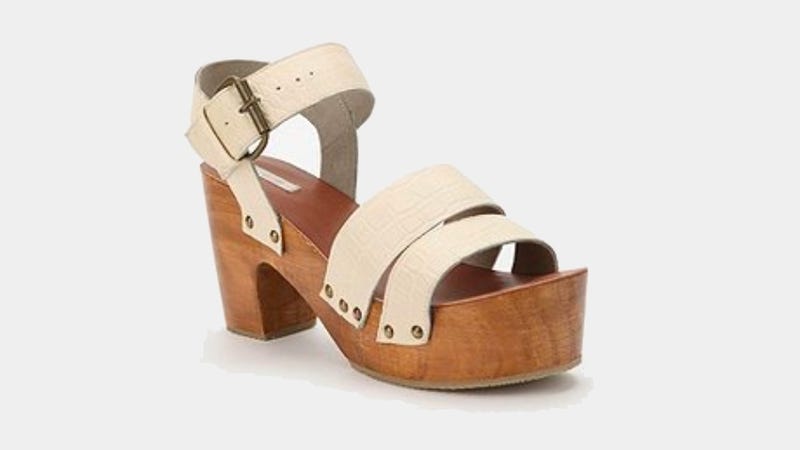 Welcome to Fashion Scavenger Hunt, a new column to help you track down your favorite products — clothes, makeup, shoes, whatever — that have been discontinued or otherwise lost in the passage of time and quickie fashion trends. Email katie@jezebel.com to submit your own "wanted" ads.
I wore these Ecote Ivory Leather & Wood Croc-Embossed Heels in size 7.5 — purchased for $79 off the Urban Outfitters website — almost every day last summer. They were so comfortable and versatile that I wore them everywhere: to work, on the beach, out dancing until 5 a.m. I wore them too often, apparently, because I had to get them resoled twice and re-fasten the straps, which repeatedly broke at inopportune moments, at least three times. I cradled them lovingly as I took them out of my closet for the first time in months this week and tried to pretend they weren't shot to death. (They don't look so bad in this photo, but see the spot where it looks like I took a bite out of the heel? See how the straps are unraveling in new and exciting ways? There's no way they'll last me another warm season.)
This is where you guys come in: can you help me find a similar pair, for a similar price (or maybe even cheaper)? What about — crossing my fingers here — the EXACT same pair on a different site? I've got pretty solid Google sleuthing skills and haven't had any luck, but I'm optimistic. The power of Kinja!