Everybody, Emily NEEDS these booties, and I can see why. She writes:

The timing of this [column] is so, so fortunate, as I have been making myself crazy trying to find the answer. On the Full Frontal with Samantha Bee episode which aired on Monday, 5/9, Sam is wearing some absolutely killer black booties with a color-blocked hot pink heel. I haven't even been able to find a screenshot, but here is a link to her entrance where you can see them in all their glory.
I MUST HAVE THEM. Any help you can give would be much appreciated!
I emailed some reps for Full Frontal back in early May to find out exactly where Ms. Bee procured these boots in all their glory; unfortunately, my request has gone as yet unheeded, leaving us all to fend for ourselves, as one must do in this cold-hearted world.
It looks like Bee's boots are suede with a contrasting perspex heel; fortunately, this style of bootie has gained a decent amount of popularity in the past few years, so we can at least take a stab at it, and hopefully find Emily a suitable dupe.
The current rush on these shoes began with a look Raf Simons introduced last Spring for Dior's Fall 2015 collection—super shiny go-go boots in varying heights with lucite heels in varying colors, though I haven't personally seen the exact color Bee is wearing from Dior, unless Raf made them especially for her.
Ms. Moneybags Kylie Jenner and her ilk went bananas over these and they were sold out in a lipkit's measure of time; they're also the shoes Kanye West was accused of maybe, sorta jocking in his Yeezy Season 3 line.

G/O Media may get a commission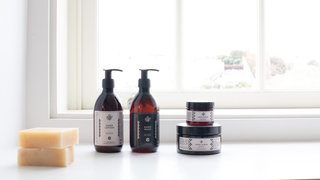 Exfoliate and Hydrate
The Handmade Soap Company
More recently, Maison Margiela's gotten in on the game with a luscious pair of perspex heels with gold flecks in them; unlike the Dior/Yeezys, they are still available to purchase, but they'll set you back around $1550. (The classic Tabi boot version below is on sale for $1050 at Totokaelo.) However, if you've got that kinda dough kicking around and are dying for a timeless staple that will go with anything, I can personally attest I physically held one of these shoes at Dover Street Market last weekend (like, picked it up with my hand), and they're very sturdy; the perspex heel doesn't seem likely to wear down easily, so they'd probably last you forever.

Of course, because everyone loves this look, that also means knockoffs can be had! Here are tons of affordable knockoffs for an average of around $60 US, and an ever-reliable Jeffrey Campbell interpretation here for $70; you can find a reasonably priced similar version all over eBay, too.
And since we're talking about perspex, my favorite shoe element (in part because, as you may know, clear is my favorite color), I would just like to point out that British designer Simone Rocha consistently makes the best use of perspex, as well as other unusual textiles, and that I'm still kicking myself, years later, for never copping these wacky high-heeled sculptural brogues from Fall 2011. (Though if you like those, there are also these cute rubber Rocha sandals, and these more perennial Margiela H&M joints.)
Okay, people: now is when we band together to help Emily get closer to the cute boots of her dreams. Got any ideas?