From gamine to glam to justplain weird, the 67th Annual Venice Film Festival has been, sartorially-speaking, one to remember.
It's rare to see Michelle Williams go full-on glam, and while I like the quirky risk, the end result is slightly frumptastic.



This cute day look, however — toughened with a pair of sandals — is pretty adorbs.



G/O Media may get a commission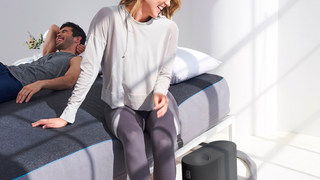 Eight Sleep Pod Cover
Speaking of willful eccentricity: Shannyn Sossamon goes all artsy early-80s grandma on us!



Monica Barladeanu is disco-fab.



Noomi Rapace, the original Lisbeth Salander, retains a hint of the rebel. You decide whether it's with or without a cause.



Actress Valeria Solarino, making this far more glam, and far less absurd, than this has any right to be.



Here, however, she's pushing her luck.



Pace Wu lets — okay, not all — but quite a bit hang out.



As a pregnant friend recently remarked, we're in a golden age of maternity wear. As Antonia Zegers shows!



As Christiane Filangieri shows, chastity belts are big for fall.
[Image via Getty]