A few weeks ago, we received an intriguing invitation in the tips inbox. Ann Taylor wanted us to come inspect their summer Loft collection — and they were willing to pay us to do it.
"Come take a sneak peak at LOFT's summer 2010 collection before anyone else!" the note raved. "Bloggers who attend will receive a special gift, and those who post coverage from the event will be entered in a mystery gift card drawing where you can win up to $500 at LOFT!"
The fine print explained an unusual catch: the bloggers who went to the event would have to send their posts back to Loft's publicist within 24 hours — and then she would reveal what value of gift card they had won. The minimum card value was $50.
We did not attend. Thirty-one bloggers did; the company president says each took a gift card.
We made a mental note to keep an eye out for coverage of the event.
And aside from the Los Angeles Times blog calling attention to the attempted bribery, that coverage has been overwhelmingly positive. And almost none of the bloggers who typed write-ups and posted grainy cell-phone photos disclosed their financial relationship — or lack thereof, if in fact anyone turned down the cards — with Ann Taylor. A gift card might not be the most liquid form of currency, but it certainly has monetary value — and $500 is no small sum. And under recently revised Federal Trade Commission regulations, any online writer who fails to mention the receipt of freebies that might have swayed his or her coverage of a product is liable for fines of up to $11,000. (Now if only we could have such a regulation governing the print media.)
G/O Media may get a commission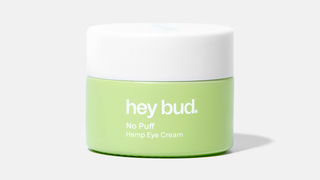 15% off
Hey Bud - No Puff Hemp Eye Cream
"We don't incentivize the press," protests Loft's president, Gary Muto. "We would never do that."
"They could write whatever they want. Obviously, there's freedom of speech." I'm sure as much will be obvious from this sampling of coverage of the collection and its three monthly deliveries:
A real free-flowing range of opinion, that. Of these bloggers, only two — Hopkins and My Life On And Off The Guest List's Zia — mentioned the gift cards. UPDATE: Courtney Henley-Anderson, the publisher of That Girl At The Party says that she was unaware of the gift card drawing as she was not officially invited to the event, adding,
"I was invited by a colleague to the 5 to 9pm Fashion preview, not the blogger event described in this article. As such, I was never sent the invite with the 24-hour posting incentive. Nor was I given a gift card since I was not aware of the offer. My post about the event went up on Monday, February 1st, a full five days after the event took place and four days after the gift card reimbursement described here. In addition, in keeping with the FTC rules, I duly state when I am given a product and review it."
We've noticed when other sites have failed to mention, oh yeah, that the Fabulous New Product You Just Have To Try! was given to them for free at a schoozy event. Just like we've drawn attention to the fact that magazines stock their pages with editorial payola; the fashion print media are so beholden to their advertisers that it's not unusual for luxury brands to dictate how the clothes they lend magazines can be styled and shot for editorials, and what their paid ads must be adjacent to in the book. Perhaps some editors and bloggers are too excited by the opportunities for graft to notice that it's precisely this kind of constriction of editorial judgment that atrophies creativity, and which is turning the fashion media — women's media — into a lowest-common-denominator whirl of focus-grouped, product-placed bullshit. The Internet was supposed to be different.
Loft Gift Cards For Bloggers Stir Buzz [WWD]
Crossing The Line? Loft Barters Gift Cards For Blog Coverage [LATimes]
Venetia Scott: "I Find Magazines Less And Less Interesting" [Fashionologie]
Earlier:
Marie Claire Devotes 10-Page Spread To One Advertiser Designer