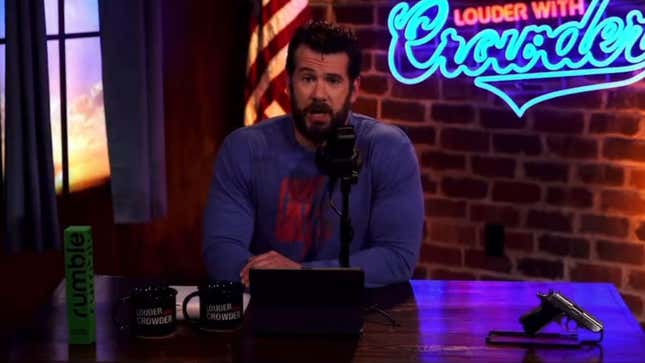 Far-right podcaster Steven Crowder announced on his podcast, Louder With Crowder, on Tuesday that he and his wife of nearly a decade, Hilary, have been in the midst of "what has increasingly been a horrendous divorce" since 2021. Crowder, who railed against the legal right to no-fault divorce (that is, the right to divorce without proof of abuse or wrongdoing from a spouse) last June, equated his situation to "living with a proverbial boot on my neck."
Megan Rapinoe Uses Media Time to Discuss "Cruel" SCOTUS Ruling
"No, this was not my choice," Crowder said on Tuesday. He then suggested that he disagrees with the laws that allowed his wife to leave him: "My then-wife decided that she didn't want to be married anymore and in the state of Texas, that is completely permitted." Crowder reiterated that the situation was "not [his] choice," and that Hilary "simply wanted out and the law says that that's how it works."
Suddenly, his comments bemoaning no-fault divorce last summer make a lot more sense. Shall we review? "No-fault divorce, which, by the way, means that in many of these states if a woman cheats on you, she leaves, she takes half. So it's not no-fault, it's the fault of the man," he said at the time, adding, "There need to be changes to marital laws, and I'm not even talking about same-sex marriage. … I'm talking about divorce laws, talking about alimony laws, talking about child support laws.
"If you're a woman that comes from meager means, and you want to get wealthy—you've never worked, you didn't get a degree, you have no skill set, but you're good-looking—your best path to victory is simply to marry a man, leave him, and take half. … We need to reform divorce laws in this country."
Crowder's anti-divorce sentiment certainly seems personal in the context of what we know now. But it's also a broader trend among conservatives, as documented by research from Media Matters for America last year, and at a time when Supreme Court Justice Clarence Thomas has expressed interest in changing marriage laws. Over the last year, influencers and politicians ranging from Sen. J.D. Vance (R-Ohio) to the likes of Crowder, Matt Walsh, Tim Pool, and right-wing media outlets like the National Review and the Daily Wire have criticized no-fault divorce.
No-fault divorce was first enacted in California in 1969 and has always been a feminist issue, because it allows domestic abuse victims to leave marriages without onerous barriers. Given the extent that marriage is tied to property and financial rights, no-fault divorce is also vital to escaping financial abuse.
Crowder and right-wingers have instead told themselves that no-fault divorce is a means for imagined gold-digging women to swindle men out of money. They're afraid of women's power over their own lives, so they want to take away that power and those rights by changing laws to entrap and hold women hostage in unwanted, possibly abusive marriages.
On Crowder's Tuesday podcast episode, he called his divorce his "deepest personal failure" and the greatest heartbreak of his life. He said he still loves Hilary "as the mother of my children," and expressed frustration that "she wanted something else for her life." I know Crowder's expectation is that his right-wing audience will sympathize with him, but me? I'm just relieved for his wife. And I'm worried about this push from Crowder and his cronies demonizing no-fault divorce.