In a new interview with Pitchfork, SZA sat down and reflected on her whirlwind year after releasing her album CTRL (which earned her five Grammy nominations!).
In the Q&A she talks about how her social life has changed, particularly regarding her close, close proximity to celebrities:
But what is getting more normal is that I met James Franco yesterday and I wasn't scared. I'm usually terrified. He grabbed my arms and was just like, "Hi, I'm James Franco," and I was like, "I know who you are." I just reached out and grabbed him to hug me, and he was so close to my face, and I wasn't scared. Famous people are always close to your face. I remember the first time I met Pharrell, he was like this to my nose [brings her hand to close to her face], and I was like, "Sir, please, you're too close. I'm scared." I was quivering.
Can you think of anything more terrifying than James Franco just grabbing you and introducing himself to you a few inches from your face?
She also says that she's "literally the exact same person" she was as a teenager, though she had "JNCO jeans and fuckin' 30 bracelets on at the same time." And she gives fans a taste of what one of her high school mix CDs might have included, which is a world away from what her own music sounds like. "I listened to Limp Bizkit, Red Hot Chili Peppers, Macy Gray, Nine Inch Nails—that was a weird phase for me," she says. "Like, Hello? Are you all right?"
G/O Media may get a commission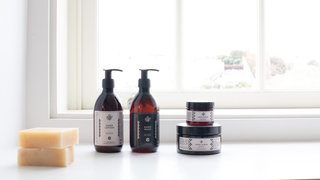 Exfoliate and Hydrate
The Handmade Soap Company
But I especially loved the strong words she has for any of her exes who hear her music and think she's singing about them:
I dated such arrogant men, they're just so full of themselves. But I also feel like they don't care that I'm singing about them. They still want to come to the show because they're arrogant. Then some boys wished it was [about them], and they were like, "I didn't hurt you that bad." And I'm like, "You're right, you didn't, so congrats." Like, relax. But it's been interesting. Lord. It's been so crazy, those boys. People are more mad at me about the way I treated my exes than I am. I'm always just like, "He deserved it. He don't give a fuck about what I did. I was minding my business in Brooklyn, while he was in Vegas having an orgy." It's been a strange time.
Like, relax.
You know, for someone who's had a pretty full year, SZA sounds cool as a cucumber. But celebrities still need to back off!