Here's a local trainwreck, to momentarily distract you from the five-airplane-collision that is the state of our national affairs: A Republican Tennessee state senator who ran on a platform of—what else—Christian family values is accused of having an extramarital affair with his second cousin, who was both an employee and a patient at his medical practice. Sen. Joey Hensley is also accused by the woman's estranged husband of prescribing her opioids, which could be ethically problematic.
The allegations, which were reported by the Nashville Scene, came during testimony in the cousin's divorce trial. They are but the latest twist in Senator Hensley's surprisingly eventful love life: he was accused by his own wife of hitting her twice with his car, an accusation she later withdrew.
A little background on Hensley: he's a family physician and Pentecostal Christian who's served in the State Senate since 2013. He was a state representative before that, and a loud proponent of moral uprightness the whole time. In 2012, he sponsored a bill that would have forbidden sex ed teachers from ever mentioning the existence of homosexuality, on the grounds that it wasn't related to human reproduction. A year later, he sponsored a bill to allow college counselors to reject seeing students, even suicidal ones, on religious principles; it was based on the case of a counselor who was fired after refusing to see an LGBT student. He's anti-abortion, naturally, and is currently sponsoring a bill inspired by former Breitbart troll Milo Yiannopoulos (who was, you will remember, roundly protested at UC Berkeley). Hensley calls it a free speech measure that would protect conservative views on campus by creating "intellectual diversity" offices.
All of which makes Hensley's lively personal life a matter of some public interest: he has been married and divorced four times, and his last wife accused him during their divorce of hitting her twice with his car during a domestic dispute. She later withdrew the allegations, but not before Hensley filed a bill concerning how judges could divide marital assets during a divorce, a bill he admitted was based on his own life circumstances. 
And now we have the new saga of the state senator and his second cousin: as the Scene reported, the cousin's estranged husband has accused his wife of having an affair with Hensley. The cousin is a nurse at his medical practice, as well as a patient there, and testified that Hensley prescribes her Lortab for back pain, a drug that is a mixture of hydrocodone, an opioid, and acetaminophen. The woman's husband has accused her of being dependent on the drug, an allegation the woman denied at trial.
G/O Media may get a commission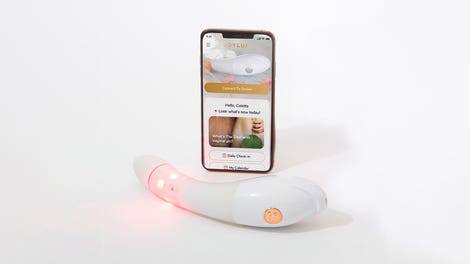 $50 Off
Joylux vFit Gold Device
Hensley told the Scene that there's no issue with prescribing his employee-lover-patient-cousin opioids, since they are no longer romantically involved, and since he treats lots of family members. His cousin, meanwhile, testified that they are still involved and that she stayed with him at a hotel when he was on a taxpayer-funded trip last month. From the Scene:
[The cousin] also testified that she spent the nights of Feb. 8 and and Feb. 14 this year with Hensley at a hotel in downtown Nashville while he was in town for legislative duties. Although those nights were presumably paid with a legislative per diem — i.e., state dollars — Legislative Administration director Connie Ridley said whether or not someone else stays with a legislator if he or she is in town on legitimate business "is not pertinent to the payment," per state law.

Hensley denied that he is still romantically involved with [the cousin].

"No, I'm divorced, I don't know what she's talking about," Hensley said when asked if they were still discussing marriage. He also denied that [the cousin] had spent either night in February in his hotel room. When asked if this is what he would testify to under oath during his deposition, Hensley said he had no further comment.
Hensley was subpoenaed to testify at his cousin's divorce trial, which he refuse to do, citing the privileges of both a legislator and a physician. (Politicians can get out of testifying when the Legislature is in session, and practicing doctors can also not comply with subpoenas. Hensley will, however, have to sit for a deposition.)
While much of this is unseemly, the Scene didn't uncover anything illegal in their reporting: Hensley isn't in trouble with the state's medical board, nor the legislature. But it's certainly entertaining to contemplate the next time Hensley files an anti-gay bill or dares breathe a single word in public about family values.