Well, we did it. We're finally here. We've finally made it to the era that everyone thinks of when they think of "retro" makeup. It's all eyeliner and lipstick from here on out, so grab your old pictures of Liz Taylor, cinch your waist in, and start adding liquid eyeliner how-tos to your Pinterest board because it's about to get real 1950s in here.
As noted in the previous installment, the 1940s was a decade defined by the austerity of the war years, while – in response - the 1950s was a decade of glamour and comparative opulence. People were starting to get their lives back on track after spending nearly a decade with everything being blown (literally and figuratively) to smithereens. Magazines and movies were bigger and better than ever, meaning that celebrity influence was in full swing and influencing trends, from makeup to clothes to hairstyles. It was the era of Marilyn Monroe, Elizabeth Taylor, Dorothy Dandridge, Audrey Hepburn, Sophia Loren, Grace Kelly, and lots of other pretty people that I don't think I need to list as we've all had that moment where you google something like "Audrey Hepburn dress" and then fall into some sort of weird internet-hole where you look at a million black and white photos of women from the 1950s and go, "Why can't I wear dresses like that? And have hair like that? And have fewer rights and opt-… wait… [FIRES UP NETFLIX, WATCHES BROAD CITY, EATS A BAG OF MILKY WAYS]."
Anyway, you know all these people, and they were all elegant as balls. Everything was in it's Golden Age at this point: Makeup, MGM Studios, uh… hats, I guess. If you like glamour but think that the looks from the 1940s were too minimalist, then this is the era for you. This is also a great era if you have an unhealthy love of liquid liner, but only one specific look (for those you who prefer to treat your face like a Cubist painting with little regard for shape and flattering colors, please wait for the 1960s). If you've read through prior pieces, you'll probably have noticed that there's really only One Look™. Until the 1960s, there weren't a lot of makeup-related subcultures happening (think punk, glam, etc). What was popular was popular, and that was about it, whether you were young or old, rich or poor, black or white (also, we're still strongly in the era of "Are you anything other than a white lady? Well, then your goal is to look more white, k thx."), if red lipstick was in, well, then red lipstick was in and doggone it you are going to wear that stupid red lipstick.
This is an era of sultry looks, with heavy lashes and stronger liner than before, with bright lips and big hair and gowns that if I tried to wear I would probably immediately break a pen on. It's a time when beauty parlors were more popular than ever. It's a time when getting your hair set was a thing people actually did and not just a phrase I use to confuse my husband when I'm leaving the house. This is the Golden Era of Hollywood glamour.
G/O Media may get a commission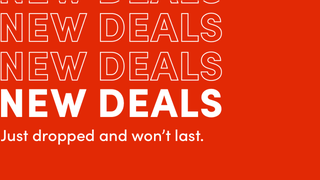 Up to 70% off
Wayfair - Cyber Week Deals
Remember how the 1940s was basically the land of lipstick? Well, the 1950s weren't much different. I might as well just stick it here in all caps: LIPSTICK. Here it is bolded: LIPSTICK. With looks more elegant and put-together than ever, strong and bright lips were at the forefront. While the 1940s could basically be summed up by just slamming an open red lipstick in a book until all the pages looked like a bottle of ketchup had exploded in there, the 1950s brought a few more color options to the table as makeup companies were able to return to full production after the war. While red continued to be the most common color, pink (think a warm, deep pink rather than a bubblegum or light pink) was actually a very popular lipstick color at the time, with bright, satiny pinks showing up everywhere.
Several classic lip colors were released at this time by Revlon, including Cherries in the Snow (1953), Fire and Ice (1952), and Persian Melon (1957). Lining outside of the lips to create a fuller effect was also quite popular, with liner sometimes being tapered down to give a sort of "smiley" look.
On the topic of lipstick, liquid lipstick may be the trend now, but long-lasting lipstick first became a staple in the 1950s with the introduction of Hazel Bishop's No-Smear lipstick. Although similar formulas had been on the market since the 1920s, the real peak for these formulations was in the fifties. The Hazel Bishop ones came in six colors: pink, followed by five shades of red, which should not be a surprise to anyone reading this (wait until the 1960s if you're into weird lipstick colors. Those guys went cuckoo bananas). The lipsticks were so pigmented and long-lasting that they tended to stain the lips even overnight, to the point where the Hazel Bishop company tried to market this as a selling point, telling women that they could "Wake Up Beautiful."
Foundation also became heavier and more matte during the decade. Now that rationing was over and makeup was readily available, women were free to spackle their faces with as much foundation as they liked, and spackle they did. The 1950s complexion could best be described as "mask-like" with cream or liquid foundations being used on the entire face, then set with matching flesh-toned powders to achieve a flawless but full-coverage look. For cheeks, women would wear rosy or peachy rouges on the apples of the cheeks. Faces were done up fully, with the overall look being flawless but definitely one that took work and a fair amount of product.
The other major trend in the 1950s was pastels, especially when it came to eye shadow. Shimmery and satiny eye shadows in pastels such as blue, green, purple, and pink became incredibly popular, meaning that if you're trying to pull off a true 1950s look, you should probably go rooting through your Caboodle for that blue eye shadow you bought at Claire's back in 1998 when you thought that baby blue eyelids would just win over your adolescent crush. Just look at me, Brad! Look at me! I even wore body glitter, you ignorant lump. Anyway, eye looks usually consisted of one eye shadow color used only on the lid, finished with eyeliner.
While the 1950s are sort of thought of a time where liquid liner was flicked outwards until every woman walked around with wings, eye looks were really quite subtle at the time. The liner was very gently winged (more of a way to easily end the liner at the edge of the eye rather than a true cat's eye look), black, and kept tight to the lashes. Lashes were full and loaded up with mascara, though it was mostly kept to the top. The eyes of this era were dramatic but in an understated way, with simple looks used to define the eye and make it look larger. This is also the decade when fake eyelashes really start to take off, with celebrities using synthetic ones regularly. Brows at this point were still strong and relatively thick, but softer than in decades prior. They tended to stay on the full side, with a strong arch that was delicately filled in with eyebrow pencil. They were full, but not as penciled in as in the past. Basically, this really is a time when people heard that rule about highlighting either lips and eyes and went, "Eh, I'll do both."
Ok, I know I constantly harp on about this, so let me continue doing just that: The 1950s were not the promised land of winged eyeliner that everyone seems to think it was. Was it a thing? Yes, but the general look was either a tightly lined look using liquid liner or a delicate flick on the outer corner. I think the issue is that in lots of photos and illustrations from the period, the eyelashes and eyeliner tend to blend into one, making it look like everyone and their mum's were packing dramatic wings, when really it's just their eyelashes. I'm no enemy of winged liner (in fact, I'm wearing it right now, or at least I was until I forgot about it and accidentally rubbed one of my eyes and now I'm half normal lady, half shitty punk kid. On the upside, the liquid liner I usually wear is virtually indestructible, apparently), but it's not the "retro" look people think it is. Liquid liner for a 1950s look = yes. Liquid liner on a look that's meant to be accurately portraying anything pre-1950 = no. Dramatic wings are awesome, but not period accurate (unless we're talking about Bollywood, but that's whole other kettle of kohl). Anyway, I'm going to stop banging that drum and instead will just dive head-long into the 1960s, an era of eyeliner frickin' everywhere.
For those of you that love the idea of classic glamour, this really is the era for you. The looks are iconic and timeless. Next time you try out a sweet 1950s-inspired look, maybe try wearing some pink lipstick or some pastel eye shadow. Then you'll be ready to head on down to the Sadie Hawkins dance with your main squeeze. Hit up the soda fountain for a malt afterwards and gaze into each other's eyes. Your lipstick is pink and perfect and doesn't come off on the straw. You rest your head on his shoulder and leave a smear of foundation, but he doesn't mind, mostly because he hasn't noticed yet. Soon it'll be the 1960s and you'll be wearing white lipstick and a lot of suede, but right now that doesn't matter. You look really good and you've got all the time in the world.
---
Enjoy these sources:

Alex Nursall is a makeup-obsessed writer, illustrator, and photographer based out of Toronto.