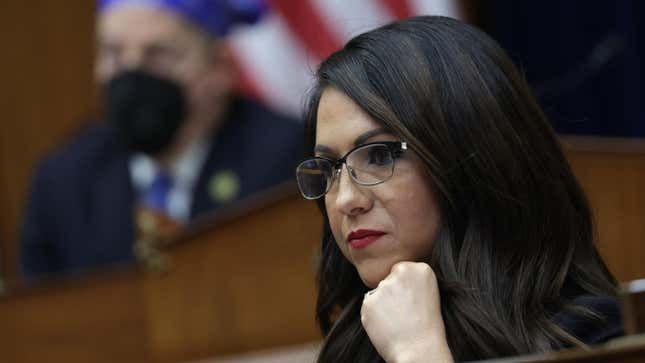 Will whoever fathered Rep. Lauren Boebert (R-Co.) please stand up?
The Daily Beast has apparently reviewed DNA test results proving that former WWE star Stan Lane, whom Boebert's mother has been accusing for decades of being her biological father, is in fact not the man who spawned her.
Megan Rapinoe Uses Media Time to Discuss "Cruel" SCOTUS Ruling
"This situation and the numerous false claims made against me over the years has been stressful for me and my family," he told the Daily Beast in a statement. "I feel my otherwise good reputation has been tarnished considerably. I and other close members of my inner circle have been dragged into this as well."
Shawn Roberts Bentz, the congresswoman's mom, claimed she had an affair with the ex-wrestler in the 1980s. She made him take a court-ordered paternity test back then in an effort to obtain child support, but it came back negative. Then, more than two decades later, "Bentz learned about the phlebotomist, by then dead, who had swapped out the sample of an NFL player who was denying paternity of another child," the Beast reports. "And she petitioned for the courts to investigate Lane."
Lane took a second paternity test in May, and this one proved without a doubt that he can't possibly have fathered Boebert. "Once we both reviewed the results Lauren and I agreed that this matter is settled, and I accepted Lauren's apology on behalf of herself and her mother."
The congresswoman confirmed this version of events in a statement to the outlet. "I can confirm that Stan Lane is not my biological father," she said. "I personally have never publicly claimed he was my father—but certainly, that allegation is out there. The Toby Keith song 'Who's Your Daddy' hits a bit differently now."
She added her regrets that her mother has dragged a random man through all of this drama publicly for so long. "He has been wrongfully attacked, and he doesn't deserve that," she said.