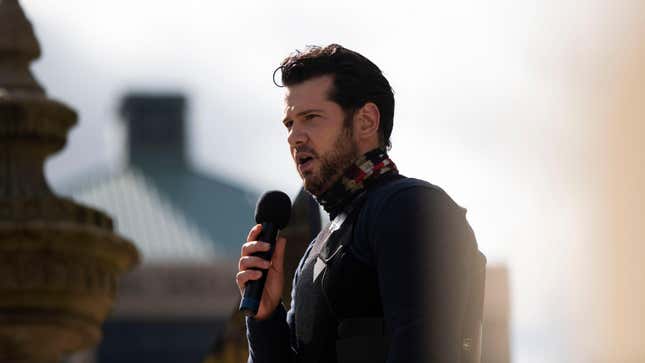 Days after Steven Crowder's ex-wife's family accused him of "mentally and emotionally abusive behavior" and released a video of him berating and threatening his ex-wife, even more has come to light about Crowder's alleged abusive behaviors. The New York Post spoke to 10 former staffers on Crowder's show, Louder With Crowder, most of whom left voluntarily, per the outlet, and learned that Crowder had a pattern of exposing his genitals to his employees. According to the Post, six staffers confirmed that they witnessed this behavior firsthand and said it was a regular occurrence.

Jennifer Hudson Achieves EGOT Status, is True American Idol
In response to the footage of Crowder yelling at ex-wife Hilary, one former employee told the Post, "I'm not shocked, but it was pathetic what he did to Hilary. That might not be the Steven you see on his show, but that was the real Steven."
According to the ex-staffers, who spoke to the Post anonymously out of fear of retaliation or due to signed NDAs, Crowder was an "abusive" boss, who frequently berated employees (apparently, including his own father), subjected subordinates to humiliating tasks like doing his laundry, imposed grueling hours, and, yes, frequently exposed his genitals to staffers.
In one incident in 2018, a staffer recalled Crowder exposing himself as part of a "prank" on an employee, Jared Monroe, who Crowder had nicknamed "Not Gay Jared." When Monroe was asleep on a plane, Crowder "climbed over and dropped his junk on top of Jared's shoulder." Other former staffers recalled that on that same 2018 flight, Crowder also "put his testicles on his assistant and childhood friend John Goodman." Before that, in 2017, the former Crowder staffer alleges Crowder exposed himself to Monroe while filming a short video. Of both incidents, Monroe told the Post, "No comment."
Crowder has since responded to the Post's Tuesday report with an on-air skit in which he… jokingly (?) pretends to expose his genitals. He hasn't issued any denials or other responses to the bombshell report detailing his alleged sexual harassment of his staffers—all, mind you, as Crowder weaponizes his platform to attack queer and trans people as sexual predators.
It's been quite a week for Crowder, who just days ago revealed he's been in the throes of a "horrendous divorce" since 2021 and accused right-wing media rival Candace Owens of extorting him and threatening to expose his once-secret divorce to the public. Crowder told his listeners the divorce was happening at his wife's behest, expressing opposition to the no-fault divorce laws that allowed her to leave him. But his ex-wife's family released a statement on Thursday accusing Crowder of being the one to instigate the divorce, not being present for the birth of their children, moving out of their home, cutting Hilary off financially, and hiring a divorce lawyer.
"The truth is that Hilary spent years hiding Steven's mentally and emotionally abusive behavior from her friends and family while she attempted to save their marriage. She was the one who was asking to work on their relationship to keep the marriage intact for their unborn children," Hilary's family told journalist Yashar Ali in a statement.
The family also shared Ring camera footage of a confrontation between Crowder and Hilary, who was eight-months pregnant at the time, in which Crowder refuses to let her leave the house because she's failed to "do wifely things." He says that she needs "discipline," and tells her to "fucking watch it" when she accuses him of being abusive.
On Friday, Crowder denied Hilary's family's abuse allegations and claimed the video was "manipulated"—yet, his treatment of Hilary in the video essentially mirrors his own on-air commentary about women and marriage. For instance, in advocating against no-fault divorce, which allows people to leave their spouses without being required to prove abuse or mistreatment, he advocates for women to be entrapped in unwanted marriages unless they can somehow prove abuse. Last year, he said women who come forward about surviving sexual assault are "blue-haired, would-be lesbian feminists," suggesting they're too unattractive to be raped and claiming actual victims would be "those who are most desirable sexually."
Between this history of abhorrent comments and his former workers alleging a culture of mistreatment and abuse, I'm having a hard time believing anyone would need to manipulate footage of Crowder to expose him.