Are you also tired of reading the words "Trump" and "sex" in the same sentence? Too bad!
Here's all the shit we couldn't cover today:
We're likely to hear a lot more about Donald Trump's alleged affair with ex-Playboy model Karen McDougal in the near future. On Wednesday, McDougal was released from her contract with American Media Inc., owner of the National Enquirer, which prevented her from speaking publicly about her relationship with Trump. Though McDougal will now be allowed to speak, the Times reports that, according to the settlement, Trump will be protected "from being drawn into a legal case involving efforts to buy the silence of women who had stories to tell about him during the 2016 campaign." [New York Times]

"Cardi B is right." — Bernie Sanders. [Twitter]

"Rand Paul is a very special guy." — Donald Trump. [Talking Points Memo]

Trump's comments about Paul came as he was pressuring the Republican Senator to vote to confirm Secretary of State nominee Mike Pompeo. Paul, along with Democrats on the Senate Foreign Relations Committee, opposes Pompeo's confirmation. [Washington Post]

Trump sent Pompeo on a "secret mission" to meet with Kim Jong Un last week. Pompeo's trip to North Korea was to lay the groundwork for a meeting between the United States and North Korea. Republicans are using the mission as evidence that Pompeo should be confirmed. [New York Times]

The President is reportedly "annoyed" that Nikki Haley announced sanctions against Russia. Members of the administration suggested that Haley was "confused," about Trump's plans. In response, Haley issued a statement saying, "With all due respect, I don't get confused." For some unclear reason, her response was deemed feminist or at least worthy of fire emojis. [CNN]

Later today, Haley told reporters that her relationship with Trump is "perfect." [Politico]

Ted Cruz has a slight lead on Democratic challenger Beto O'Rourke. The demographic breakdown is as you'd expect: Cruz enjoys an overwhelming lead among white voters and men. [CNN]

Senate Republicans are worried that Don Blankenship, the ex-CEO of Massey Energy who served one year in federal prison after a mine explosion left 29 dead, might win West Virginia's Republican primary. Republican leadership believes that if Massey wins, then embattled Democrat Joe Manchin will easily win reelection. Republicans, however, are refusing to intervene in the state's primary. [Politico]

Here are some tweets the President was allowed to publish:
G/O Media may get a commission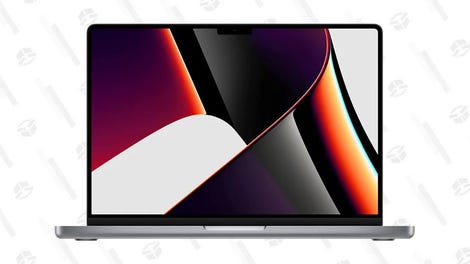 Save $300
2021 14" 1TB MacBook Pro
This has been Barf Bag.