An Australian former footballer has responded to assault allegations against other players by tweeting that the victim simply "awoke with an alleged hangover and I take it an alleged guilty conscience." But he doesn't condone rape, mind you!
According to 9News, two players from Australia's Collingwood Football Club are accused of assaulting a woman in a South Melbourne apartment after postgame celebrations Sunday morning. No charges have been filed, but the investigation continues, and Collingwood president Eddie McGuire says, "We are very concerned for the young woman involved and we take her allegations absolutely seriously." Taking things significantly less seriously is ex-footballer Peter "Spida" Everitt, who tweeted the following yesterday:
He added:
G/O Media may get a commission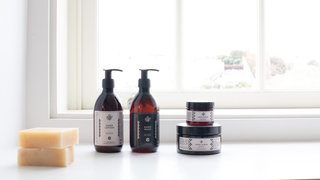 Exfoliate and Hydrate
The Handmade Soap Company
For those not familiar, Milo is apparently a hot chocolate drink. Unsurprisingly, Everitt's victim-blaming tweets caused a stir, with radio host Neil Mitchell telling him to "grow up." He responded thus:
Because as long as you don't type the word "rape," you haven't done anything wrong. Everitt later claimed "my comments are solely aimed at warning females of the danger of being drunk or under the influence of drugs." But if that was the case, why didn't Everitt just record an anti-drug PSA, rather than tweeting in the midst of an ongoing assault investigation that the alleged victim was just making everything up and shouldn't have gone home with anyone in the first place? Making the case even sadder, in a way, is the fact that the Australian Football League has just signed up to promote a DVD "condemning violence against women." We suggest they add this message, to both would-be rapists and those who choose to defend them: Guys!! When will you learn?! At 3am if a woman goes home with you IT IS NOT AN INVITATION TO RAPE HER!
'Spida' Slams Women Over AFL Sex Scandal [9News]
SpidaEveritt [Twitter]
Spida Everitt Inflames The Issue [3AW]