Ex-Oklahoma City police officer Daniel Holtzclaw, 29, has been sentenced to 263 years in prison, the full amount recommended by a jury. Holtzclaw was convicted in December of 18 counts of rape, sexual battery, and assorted other crimes after 13 black women testified he'd used his badge to assault them, then intimidate them into silence.
Three of Holtzclaw's victims were present Thursday to give victim impact statements during the hearing. But the sentencing was delayed by more than three hours while District Judge Timothy Henderson met with both sides to consider Holtzclaw's request for a new trial.
Holtzclaw entered the courthouse Thursday morning to a T.V. reporter shouting "What do you have to say for yourself?", to which he didn't respond. He was then immediately escorted back into the judge's chambers.
On Wednesday, Holtzclaw's attorney Scott Adams had requested a new trial, claiming the prosecution "made deliberate discovery violations and misrepresentations, undermining confidence in the verdict."
G/O Media may get a commission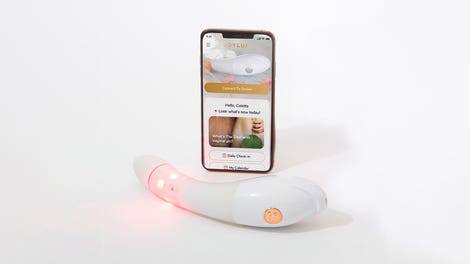 $50 Off
Joylux vFit Gold Device
The defense argued that they'd discovered those "misrepresentations" due to a Facebook post by Oklahoma City Police Department detective Jake McClain. In the now-deleted post, McClain insinuated that he had inside knowledge about the case and that "several of the victims were found to be liars looking for their piece of the pie," KOCO reported. One of the jurors was also interviewed by KOCO; he told them that after sentencing, they'd learned of "other stuff not in evidence" that confirmed Holtzclaw's guilt. Adams argued both those things meant evidence had been withheld from the defense.
McClain was called during Thursday's hearing by Holtzclaw's defense attorney; he admitted to not having been involved in the investigation at all, and that while he'd claimed to know about other, un-submitted DNA evidence supposedly relevant to the case, he'd heard about it only through grapevine "office talk:"
Henderson denied Holtzclaw's motion for a new trial and proceeded to sentencing. A jury had recommended a total sentence of 263 years on the 18 counts on which Holtzclaw was convicted, but the judge had the option rule that the time be served either concurrently or consecutively.
First, though, three victims testified before the court about how Holtzclaw's violence impacted their lives (BuzzFeed previously published all 13 victims' full testimony as it was delivered during a preliminary hearing.)
The first victim to testify, J.L., requested that Holtzclaw be sentenced to the full 263 years.
All three victims said Holtzclaw's assaults did inconceivable damage to their lives. Reporter Patricia Santos said Holtzclaw appeared to be "trying to catch the eye" of the victims as they spoke.
Holtzclaw previously sobbed his way through the December verdict, mouthing either "How could you do this?" or "I didn't do this" at the all-white jury that convicted him.
This is a breaking news post and will be updated.
---
Contact the author at anna.merlan@jezebel.com.
Public PGP key
PGP fingerprint: 67B5 5767 9D6F 652E 8EFD 76F5 3CF0 DAF2 79E5 1FB6
Daniel Holtzclaw, center, stands next to attorney Scott Adams and listens as Gayland Gieger, right, Oklahoma County assistant district attorney, speaks during his sentencing hearing in Oklahoma City, Thursday, Jan. 21, 2016. Image via AP.