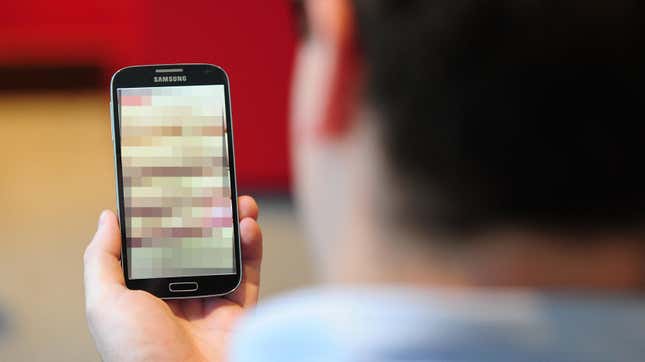 A Texas woman, identified by her initials D.L., has been awarded $1.2 billion by a jury following a lawsuit against her ex, Marques Jamal Jackson, for subjecting her to years of harassment that included the dissemination of nude and intimate photos of her he'd collected without her knowledge. Jackson obtained these photos by hacking into D.L.'s home security system and accessing cameras in her family's home.

D.L.'s suit says that as their relationship of four years began to deteriorate in 2020—some time after Jackson lost his job and was living with D.L. and her family—he began collecting photos and videos to punish and harass her with in the future, without her knowledge. After they broke up in October 2021, Jackson began tormenting D.L. by creating a publicly accessible Dropbox folder of her photos, sharing the folder with a prominent pornography site, and then sharing links with her friends, family members, and co-workers.
"You will spend the rest of your life trying and failing to wipe yourself off the internet. Everyone you ever meet will hear the story and go looking ... Happy Hunting," he wrote to D.L. in March 2022, according to her lawsuit. Now, in the wake of the verdict last week, D.L.'s attorney Bradford Gilde told HuffPost on Wednesday that Jackson "will spend the rest of his life trying and failing to wipe this financial debt clear."
Gilde told the New York Times it's unlikely Jackson—who was unemployed at the end of his relationship with D.L. and living off the generosity of her family—will be able to pay her the full $1.2 billion. But, Gilde told HuffPost, "This trial was not about the money or the number, it was about the message." Gilde said D.L. "[filed] this lawsuit and to set an example by warning others that, if you engage in image-based sexual abuse, you will spend the rest of your life with an excess judgment over your head."
D.L.'s suit notes that over the course of her once loving, trusting relationship with Jackson, she shared passwords and login information for many of her accounts and her family's accounts with him. Jackson was able to access the security system of her mother's house to record her every move as their relationship soured. After their break-up, Jackson created numerous fake social media accounts to send D.L.'s stolen photos to her acquaintances and loved ones at all hours of the day. At one point, he emailed her student loan officer with a false claim that D.L. had taken a fraudulent loan, in an extreme example of how abusive partners perpetrate financial abuse.
D.L. told HuffPost that at varying points over the last few years, she'd tried pressing criminal charges, seeking a restraining order against Jackson, and tried to ask online platforms to take down her photos. But she says no one offered her real help. "There was a vivid moment that I felt there was no escape. I felt I was completely hopeless," D.L. recalled. "I felt no one would hear my plea for help." She also told the outlet she "felt violated and disgusting and a great shame," and that these feelings "only got worse as [Jackson's harassment] continued." Today, she's hopeful that the jury's verdict will help "broaden knowledge on this type of abuse" and "collectively influence laws to better protect us in this digital age."
A 2016 study found 10 million Americans—about one in 25—have been victims of "revenge porn." Forty-eight states, including Texas, and Washington D.C., have laws that explicitly prohibit revenge porn.
Jacob Schiffer, another attorney representing D.L., told the outlet he also hopes people paying attention to her case will learn more appropriate ways to talk about cyber sexual violence and exploitation, which can often be referred to as "revenge porn." With this phrase, Schiffer said, "you think of people who are agreeing to pornography," when many victims like D.L. don't consent or sometimes even know they're being recorded, or that their photos are being shared.
D.L.'s attorneys originally only asked for $1 billion in damages from Jackson for his harassment. "It was about sending a message to the world," Schiffer told local outlet KHOU. "Do not mess with Texas and do not mess with Texas women."