Take everything you thought you knew about porn stars and toss it straight out the window. Is it gone? Is your mind free of any and all porn related ideas? Good. We'll want a fresh slate for this. Writer Jon Millward has spent months upon months analyzing porn data on the Internet Adult Film Database and his work has resulted in one of the most comprehensive porn data sets to ever hit the internet. And it's not even your birthday. (Unless it is, in which case, here — I got you this comprehensive porn study.)
Where as those of us unfamiliar with the down and dirty world of pornography would probably describe your average female porn star as looking something like Traci Lords, the reality is apparently quite different. In the adult film industry, brunettes outnumber blondes 2-to-1 and the average actress' bra size is a 34B.
As far as weight goes, porn stars of either sex tend to be on the slimmer side with the average male actor weighing in at 167.5 lbs and the average female weighing 117 lbs, with a measurement of 34–24-34. For height, both male and female performers measured up to the national average (5'10" for men and 5'5" for women).
Now that we're done with all of that physical nonsense, let's get to the good stuff — names and occupations (occupations being "teens," MILFS, wives, nurses, etc.). The most common name for a female porn star was Nikki Lee and chances are that she's very into butt stuff. 62% of female porn stars list themselves as game to do anal (87% are willing to get facials and only 53% are willing to do interracial scenes, which is weird and pretty racist).
G/O Media may get a commission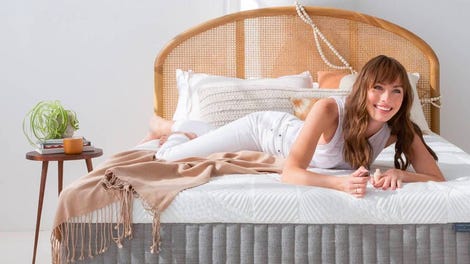 Sleep Sale
Sleep Sale - Brentwood Home
While the most common female role to appear in film titles was "teen," the MILF data was the most interesting. The average porn MILF was only 33 years old (20% were 20–25 years old, 7% were over 40 and 4% were over 50). The average age of a first time mother in America in 2006 was 25 years old, which, according to Millward, means that porn "isn't completely unreasonable when it comes to the casting of fuckable mothers."
But consider that most MILFs in porn are having sex with older teenage boys or their daughters' adult boyfriends and that should tack on at least 16 years to the average first time mother's age, meaning that the mother depicted in the film — if we want to be realistic about it (which, to be fair, most porn probably doesn't) — should be about 41 or older. I would guess, however, that 33 is probably comprable to the average age of a woman playing a mother to teens on tv or in non-pornographic movies.
Are any of you out there a 33-year-old brunette named Nikki? If so, you might want to consider a career change. Play it right (do anal, facials and interracial sex scenes) and the porn industry could prove very lucrative for you.
Deep Inside: A Study of 10,000 Porn Stars and Their Careers [Jon Millward]