Fashion week began today in New York. But if you're not one of those sprites who lives for capital-F Fashion, you may be wondering, What is the point of this thing and why is everyone there dressed like that?
How many fashion weeks are there?
How many blindstitches are there on a hand-rolled hem? Wikipedia counts 138 worldwide fashion weeks, which means that you could spend over two and a half years of your life doing nothing but lining up outside venues from Belgrade to Brisbane and from Rio de Janeiro to Riga, and still have only barely completed a circuit. It is always fashion week somewhere.
But like anything in fashion, there's a hierarchy. "Fashion Week" basically refers to one four-week circuit: New York fashion week kicks things off, then comes London fashion week, then Milan fashion week, and then Paris fashion week. These are the fashion weeks where designers including Calvin Klein, Marc Jacobs, Chanel, Dior, Burberry, Valentino, and any other purveyor of $3k dresses whose perfume or wallet or lipstick us regular folks might one day be moved through successful branding to buy, unveil their new seasonal collections. These are the fashion weeks that the people who knock off Calvin Klein et. al. pay attention to. And these are the fashion weeks that editors for the largest fashion magazines and buyers for the biggest stores attend. While there are other fashion weeks around the world that are gaining prominence — Sydney's, Sao Paulo's — the fashion weeks that aren't the Big Four are basically considered regional affairs at worst, and potential feeder sources for raw design talent at best.
Why does fashion week happen?
Because rich men like to make money.
So which season is it in fashion right now?
Fashion is six months out of step with the earth's calendar seasons, so what's about to be shown in New York, London, Milan and Paris is for spring/summer, 2011. Fall/winter collections are shown in February and March. (In-between seasons, known as "Resort" for clothes that hit stores in mid-winter and "Pre-fall" for mid-summer, respectively, tend to be presented in smaller shows spread across the major four fashion cities on a less centralized schedule.) The fashion calendar is kooky for a lot of reasons — deliveries of winter coats at Saks in August, anyone? — but with the explosion of media interest in fashion week in recent years and the widespread look-by-look documentation of each new collection, one of the most important of those reasons is that knock-offs of the new collections can hit stores before the originals do. It doesn't take a rocket scientist to check out a Style.com slideshow and e-mail close-up shots of a bag to China — and China can have (a lightly tweaked, pleather version of) that bag in the window at H&M in eight weeks.
G/O Media may get a commission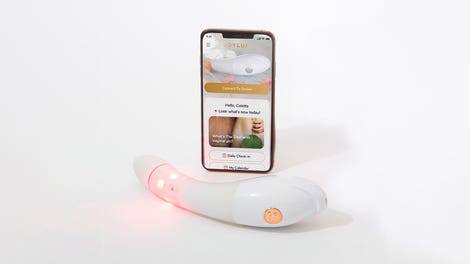 $50 Off
Joylux vFit Gold Device
Who puts on fashion week?
The main collections in New York are shown at a corporate-sponsored event known as Mercedes-Benz New York Fashion Week, which is managed by the entertainment conglomerate IMG. IMG runs many smaller fashion weeks around the world, in fact. There are New York shows that take place that are unaffiliated with IMG, however — labels including Vena Cava and Erin Fetherston are showing this season at a sort of upstart event called MAC at Milk (so named because it's sponsored by MAC cosmetics and takes place at a photo studio called Milk Studios), which directly competes with IMG's fashion week.
What designers get to participate?
Any designer can organize an off-schedule show without seeking the imprimatur of either MAC or IMG. Designers showing off-site and off-schedule of course pay for (or seek corporate sponsorship to cover) their own venue costs and the costs of hair and makeup, casting, lighting, sound design, set, crowd control, and all other aspects of production. IMG, which centralizes certain expenses, like security, charges designers many tens of thousands of dollars to mount a show at one of its venue spaces in Lincoln Center. Showing at MAC at Milk's venue is free for designers — but you must be invited to present your collection there.
How many shows are there?
This season in New York, there are 264 shows taking place from September 9-16. (Obviously, a lot of them are crap.)
Who attends fashion shows?
Fashion shows are not open to the public, and fashion week is not a public event. Designers, via their PR agencies, tend to invite members of the media, buyers who work for major boutiques and department stores around the world, and friends of the designer. Also: their closest celebrity buddies. Whom they pay to show up.
Seating at the venues is assigned in direct correlation to a guest's position in the industry's recondite and constantly shifting pecking order. (I keep it real from Standing Room Only.) The art of putting together a front row is said to be extremely complex, at least according to this story that gets published every season.
Can you sneak in?
Absolutely! At the old tents in Bryant Park, once you had done time in line and your guesthood at a given show had been confirmed, and you were allowed past the main security cordon, it was possible for a careful guest who looked the part to show-hop for the whole rest of the day, like a bored teenager at a multiplex. MAC at Milk, where the venue building is shared with many other businesses with foot traffic of their own, has sometimes been an even softer touch for entry. If you have a friend who goes to shows, there's also the old trick where she RSVPs and gets on the guest list, thereby assuring her own admission, and then gives you her paper invitation, which you produce at the front of the line when, mystifyingly, your name is somehow not listed. (Generally this is good for a grunt and a "Standing, please." PR people aren't dumb.) Some shows are harder to sneak into than others, obviously, and — like blagging your way into a night club — it takes patience and an ear for certain of fashion's shibboleths. Also like at a night club, never, ever argue with the door. This season, many fashion shows have moved to an e-ticketing system that might diminish the time-honored practice of sneaking in. Kind of a shame, really.
What's it like at a show?
Time-consuming and disorganized (sometimes charmingly, sometimes less so): you might wait two hours in various "lines" that are actually like stanchioned holding pens before being admitted to the venue, and then there's the Hobbesian scramble for a good view and the inevitable wait for the show to actually begin. The music tends to be extremely loud, as are the photographers in the media riser at the end of the runway. They function kind of like a highly vocal collective conscience. Photographers will yell things at the arriving celebrities (and will freely boo them if their late arrival is holding up the show), they will yell at the front-row guests to uncross their legs (crossed legs create shadows on the runway, which ruin shots), they will raise their voices above the booming of the runway soundtrack to yell at the models ("Give us a smile!"). Once, at a Jill Stuart show, the music stopped about three looks in, and the photographers, as one, started singing. (Not particularly tunefully, but still.) Twelve-to-fifteen minutes later, it's all over, and everyone heads for the exits, creating more bottlenecks and opportunities for patience. Then it's time to sneak into the next show, or hit an open bar and consume some sponsored liquor drink the color of nuclear waste.
How do people decide what to wear to shows? Is it good etiquette to wear the designer of the show you're going to? Are there other rules?
I am personally of the opinion that wearing a designer's clothes to that label's show is a little like wearing a band t-shirt to a concert — lame and fanboy-ish. But then I don't own anything that would really qualify. At the tents, the madding crowd includes editors wearing head-to-toe runway looks (Oh hi, Anna Dello Russo!) and people in the most insane get-ups imaginable. Like a gold unitard with DIY-Gaga glasses and furry gold moon boots. (On a dude.) This luckily means regular mortals can wear whatever the hell they want. Someone will always have on something far weirder.
How many shows does each model walk in?
A model who is doing about average — which is to say, a model who has already risen head-and-shoulders above the thousands of 5'10" teenagers who put themselves through the castings mill and launched herself into the peripheral notice of at least one or two casting directors — will walk in about 6-10 shows. A model who's doing quite well might do 10-15, a model considered extremely successful will walk in 15-20. The vast majority of models are not paid for working the shows; they work for the possibility of catching a front row editor's eye, and for "trade," free clothes from the designer, to be delivered at some later date. I believe the current record for most shows walked in a single New York fashion week is held by one Karlie Kloss, who strutted in some 31 shows and presentations during the fall/winter 2008 season. She was then 15 years old.
How can you experience fashion week as a layperson?
This season, more designers than ever before are broadcasting their shows live online to whichever fashion obsessives want to watch them. Jezebel is not invited to Proenza Schouler or Marc Jacobs, but I'll be watching both at Style.com and Marcjacobs.com, respectively. Style.com is actually broadcasting 15 fashion shows, including 3.1 Phillip Lim. StyleList is simulcasting nearly 40 of the New York shows, including virtually all of those taking place at Milk Studios — which are generally the "cooler" shows by smaller labels. If you register at First Comes Fashion (it's free!) you can watch another 30 shows, including Calvin Klein's and Oscar de la Renta's. In the past, there have been technical kinks with live webcasts of fashion shows — server crashes and traffic overloads. Your mileage may very.
For slightly, barely less-than-live coverage, of course, there's Jezebel. Sadie, Tracie, Dodai and I will be covering the New York shows and all attendant activities to the very best of our abilities. Expect plenty of slideshows and reviews, translations of the critics' prose, fashion news and analysis, notice taken of the presence or absence of non-white models, Twitpics, unsubstantiated scuttlebutt, behind-the-scenes interviews, and insightful video clips. It's going to be exciting. Perhaps occasionally harrowing. (I'm counting on my liver's eventual forgiveness.)
Like, seriously, why does this matter?
Not everyone's into fashion — and not everyone has to be — and some of the arguments for the runway's influence over what we actually wear are becoming, in this age of globalization and street style and the Internet, a little tenuous. Fashion — if indeed it ever was — is no longer the strict top-down system under which designers irrigate the garden of imitators with their precious original ideas; these days, many trends filter up (jeggings) as well as filter down (clogs). But all of us, generally speaking, wear clothes, and some of the stories of the runway's loss of primacy in the age of open-source everything are a little too neat, a little oversold. For a lot of people, looking at new ways of making dresses is enjoyable. And these shows still hold a huge amount of influence over how we dress.
The runway is still where editors at influential magazines start noting which looks and garments they will give space to in their forthcoming issues. The runway is where bloggers look to identify key trends and colors for the coming season, and it is where new textiles are first seen. (A lot of textile design techniques that have come to be widely adopted, like digital printing, were first seen on the runway, because designers are more willing to support innovative, small-scale fashion R&D than mass retailers who are forced to be more cautious.) The runway is where editors, and the stylists who work on the shows, are exposed to new models and begin to consider those models for editorials and even brand campaigns. (Which is part of the reason why it's a problem when the runways are almost exclusively white.) The runway is the crucible in which the beauty standard is first forged.