There are a lot of American Girl dolls to keep track of, and even more details to remember in regards to accessories like props or clothing. Among the rabid fans of the brand, there is a contingent loudly protesting a new development in one doll line's underthings.
On Tuesday, the American Girl Facebook page posted a message to their users about the change in the BeForever characters Julie, Melody, and Maryellen from the Truly Me doll series: their underwear is now sewn onto their cloth body. Many commenters seemed to be confused and think the torso is now plastic, but not so: the only change is that you can no longer removes these particular dolls' panties. American Girl writes:
For those who haven't seen it yet, below is a side-by-side picture for comparison. The doll on the left is in a pair of our existing briefs; the doll in the middle features the new design; and the doll in the swimsuit has the new underwear design underneath. As you can see, the underwear will not interfere with any of our doll clothes and should not interfere with our swimwear.

Doll play is fueled by imagination and the new underwear design should not hamper a girl's ability to create limitless play opportunities.

We appreciate all the feedback. We love our fans and love how passionate this community is about American Girl. We care deeply, too.
Doll play is fueled by imagination. In fact, not being able to remove my own panties in certain past instances inspired me to greater heights of creativity and ingenuity than I thought myself capable of. Many customers seem to support American Doll no matter what, while others have provided detailed contextual analysis for why the change is a problem.
G/O Media may get a commission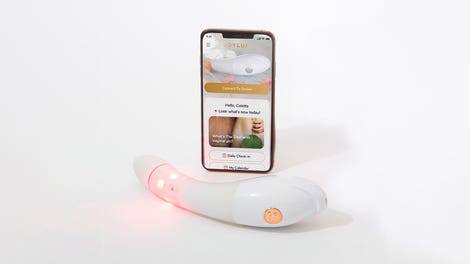 $50 Off
Joylux vFit Gold Device
Facebook user Aryn Bedrick writes, "The point is that AG is supposed to be authentic and geared towards intelligent play. The target age for these dolls is 8+. This move makes you look cheap and generic, like many of your other recent changes like the move to zip ties from strings, and packaging that requires clothing be attached with plastic tags that screams 'throw me away' instead of 'save me for your future daughter' as your original, classy packaging did. You are losing the things that set you apart in this industry."
She adds, "I will not buy outfits attached to boxes and I will not buy a doll with permanent underwear. I just won't."
It's unclear from American Girl's post if the change is meant to streamline production of the Truly Me dolls or if the issue is that people are constantly calling to reorder new panties after losing them in the wash. Other commenters have suggested that the decision is meant to imply that a girl's body is shameful, and the company doesn't want the doll's "private parts" to ever be exposed. Jezebel has reached out to American Girl for further comment and will update with any statements the company offers.
Update 2/9 8:37 am:
American Girl sent us the following statement, and it's pretty much a cost issue:
The decision to make this change was made for several reasons, including our ability to continue producing a quality product without the price of our dolls going up. And because we learned from our consumer research that the new underwear design will make play easier for some children and will ensure the underwear cannot be lost, we hoped it was an overall benefit for most. Having observed for decades how girls play with our dolls, outfits, and accessories, we believe the change will not limit how a young girl imagines or interacts with her doll.
That also kinda implies some children are having a hard time playing with removable underwear, but okay.