Aaron Carter, brother to Backstreet Boy Nick Carter and former object of both Hilary Duff and Lindsay Lohan's affections (there was a feud, remember), is poised for a comeback. Well, not a comeback precisely, no, because, you see, Aaron Carter, according to Aaron Carter, never really went away.
In a way, he's right — over the past decade, Carter has appeared on Dancing with the Stars, Rachel vs. Guy: Celebrity Cook-Off and in an off-Broadway production of The Fantasticks. In other words, he's been working and taking time, much like Justin Timberlake did, to create an album that will live up to his past work such as "Aaron's Party" and "Oh Aaron" (which happens to be the song that Lindy West sends me when I'm sad) — songs that none of us have been able to stop raving about since their release.
He tells NewsHouse (while allegedly not wearing a shirt):
"I love all of the songs that I've ever done. They're amazing songs, and you know, hundreds of thousands of people still talk about those songs all the time, so they must have had an impact on people's lives and I'm very excited to be able to play those songs."
He loves those songs. We love those songs. We can never get anything done because we're always talking about those songs.
And lucky for us, he's going on tour again where he will play those songs as well as new songs. When asked to describe his new direction in three words, AC replied:
"Oh, hip-hop, it would be fun and it would be party. Fun and dance. Fun, dance and hip-hop."
G/O Media may get a commission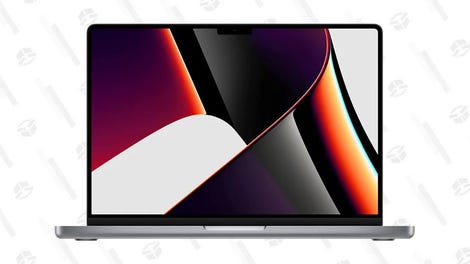 Save $300
2021 14" 1TB MacBook Pro
Hip-hop. Fun. Party. Fun. Dance. Fun. Dance. Hip-hop.
And here's a chance for him to show off his creativity. When asked what the one thing he can't survive on tour without is, Carter answered:
"Microphone. A microphone, yeah."
Practical, but try again, Aaron.
"Wait, let me think of something that's a little bit cooler. My manager, hah! I couldn't survive without my manager."
Yes, much cooler.
Aaron Carter's tour, which is called the After the Party Tour because it "is basically the sequel to Aaron's Party without the parents," is already underway, though you cannot find tickets at his official website, which hasn't been updated since 2011.
P.S. If I sound bitter, it's only because he never got back to me.
Q&A with singer Aaron Carter: The After Party stops in Syracuse [NewsHouse]