What is it with people wanting to sail around the world? Recently, a couple attempted the feat in a small sailboat with their two young children. They failed. Now, the Internet wants their heads.
"Shame on you and your reckless way of life. You not only put your young family at risk, but you also put to risk those that had to come and rescue you. All on taxpayers dollars. Yes I am a sailor too; but I always calculate my risks using common sense," someone identified as Gregory Charles Gone wrote on the family's Facebook page.
Eric and Charlotte Kaufman planned to sail from Mexico to New Zealand with their daughters Cora, three, and Lyra, one. Catch is, Lyra had been diagnosed with salmonella poisoning right before they shoved off. Charlotte documented the baby's diagnosis and photos of her medicine on their family blog, but Lyra's illness only worsened and she eventually broke out in a rash and a fever. They put out an S.O.S. call to the Coast Guard who rescued the family with a messy mix of planes and boats and then they all watched as the family's boat, the Rebel Heart, sunk.
People who've heard about the Kaufman's two weeks at sea with such young children, one fighting sickness when they left their Mexican port, are pissed, reports the New York Times.
"Teenagers, maybe, but kids of those ages — I think it was asinine," Mr. Gardner said in an interview. "He put his family at risk. Any Joe can take a Coast Guard course and you are a captain — it is just above a cereal box certification."
But the Kaufman's defended their decision, even from the U.S. Navy boat where they're staying until Wednesday, writes USA Today, with Eric's statement to their haters.
"We understand there are those who question our decision to sail with our family, but please know that this is how our family has lived for seven years, and when we departed on this journey more than a year ago, we were then and remain today confident that we prepared as well as any sailing crew could," the statement said. "The ocean is one of the greatest forces of nature, and it always has the potential to overcome those who live on or near it. We are proud of our choices and our preparation, and while we are disappointed that we lost our sailboat and our home, we remain grateful for those who came to our aid and those family and friends who continue to encourage and support us."
G/O Media may get a commission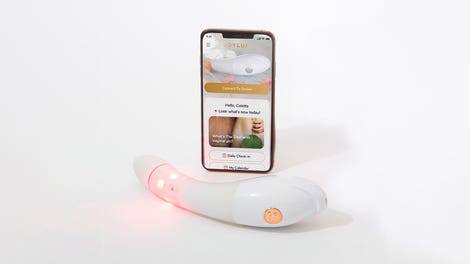 $50 Off
Joylux vFit Gold Device
For the Kaufmans, sailing around the world is a thing that they just do. In fact, the Rebel Heart was the only home they owned and the couple actually began their venture 'round the world in 2012. Lyra born during a pit stop in Mexico.
It's not as if the Kaufmans didn't know what they were doing on the high seas; Charlotte's sister Sarah English says the couple are both experienced sailors. Eric is a former Navy corpsman and Coast Guard-licensed captain who taught Charlotte the ropes a decade ago.
Still, onlookers accused the family of selfishly using taxpayer money to fund their rescue, but a military man told the Today Show, that if you've paid your federal taxes, then you've already paid for the right to be lost and saved at sea.
Lyra is recovering from her illness and her parents and sister are by her side. The family is sailing back to San Diego, where they'll soon dock and feel the public's full wrath. Not that it matters. As English says, "I wouldn't be surprised if there is a future sailing trip."