Last week, television network Bravo announced they were launching "a series of new lifestyle content platforms featuring food, travel, home design and relationships." This week, gym chain Equinox announced they're creating a "digital magazine," led by a former Self editor. Prior to these pieces of news, Shape and Fitness merged, Details said they were no more, and the entire men's magazine industry seemed to be in disarray. These days, it seems, starting a content-making venture is only appealing as a way to help your product make more money.
This isn't a new revelation (after all, the VC funding and investments that make most of your favorite web publications run is hardly dissimilar), particularly in Bravo's case: the oldest media companies still trudging along are large conglomerations where the money-making side of the brand (Disney, for example) funds the non-money-making side of the brand (Fusion, for example). But it is noteworthy to see the proliferation of established brands who have long been peddling content about life's enjoyments—food, clothes, fitness—slowly start to shrink or shift as companies with more steady streams of income take to the web to expand their brands.
Because that's what this is—brand expansion, which is just another way to say "making money." In no way are Bravo or Equinox producing anything associated with the heralded world of journalism—their close involvement in the product makes the question of objectivity not even worth getting into—the way the magazines they're replacing may have vaguely been doing in the past.
As Bravo wrote in their press release, they're expanding their website because of the success of their website BravoTV.com, which hosts all of your favorite Housewives blogs.
Each lifestyle microsite will be enhanced by Bravo's curated contributor network with top experts weighing in with their proven prowess on culinary arts, luxury travel, couture fashion, opulent beauty and everything in between. At launch, Bravo welcomes the expertise of Danyelle Freeman, current editor and founder of popular food blog Restaurant Girl, and former New York Daily News chief restaurant critic and author; Jen Pinkston, A-list wardrobe stylist and founder of online lifestyle blog The Effortless Chic; Rachel Jones of travel blog Hippie in Heels, who focuses on off-the-beaten path destinations with a twist of luxury; Elle Croft of A Bird in the Hand Travel who specializes in fashion-forward personal style while traveling all corners of the world; Katie McKnoulty of The Travelling Light, who serves as a go-to resource for those with an insatiable desire for finding hidden gems around the globe; and Megan Eileen McDonough of Bohemian Trails, who focuses on travel with a keen eye for underground art, music and fashion havens all over the map.
G/O Media may get a commission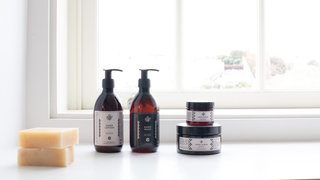 Exfoliate and Hydrate
The Handmade Soap Company
We can probably expect to see these people pop up on future or current Bravo shows in some capacity.
Or take Equinox, whose shift towards "editorial" content with their site Furthermore seems a less inherently obvious development but will definitely make them plenty of money. As Editor-in-Chief Liz Miersch told Fashionista, the idea for a website that could help their brand grow in a less obvious way than the ridiculous ads they release came after they put out this 2011 video of a woman doing yoga, which has over 10 million hits.
[After] "The Contortionist" went viral, the entire organization said, "Huh, content could be something that really grows the brand and brings in a lot of eyeballs for us." At the same time, we looked at the editorial landscape and felt like there was this hole where real, authoritative, scientific fitness and wellness content met an elevated, luxury aesthetic.
Sounds like a lot of words that don't mean much doesn't it? Sounds like someone who speaks the language of brand[ed] content.
While there are elements of branded content in it, insofar as we use Equinox experts and the health advisory board that Equinox has amassed, we're not really going to be writing about specific Equinox programming. We're trying to be more editorial. But from a business perspective, the plan is to create an advertising model different than anything else out there because we have a tie to the Equinox brand and to these physical spaces and access to a very specific target audience, which a lot of other sites don't have.
(Emphasis added there.) In the world of journalism, there is no such thing as "more editorial." There is content that is "servicey" and that sells things and that's fine, because media is a business, but Equinox is not in the media business, and they're not even pretending they are the way some of the magazines they're replacing did: they're in the selling stuff business, and their new website is selling them. The media part is simply the vessel.
The only people for whom launching a website is an appealing way to make money in this day and age come either from companies that have a ton of money from investors or from companies that don't derive the majority of their income from making stuff, but selling it. Who cares, you might ask, if a gym wants to start a website about working out? That makes sense, right? But for Equinox, everything Furthermore will feature will in some way be something that is Equinox-approved, i.e. something that Equinox makes money off of.
When asked whether Furthermore would "cover brands" that Equinox doesn't sell in their stores, Miersch said they wouldn't do "bigger partnerships with apparel brands we don't carry because I think that would be a bit of a disconnect," though they would editorially cover other brands. Essentially, then, they will not put too much money into something that won't make them money. That's a slight departure from the way editors who work at lifestyle magazines function, who certainly feel advertising pressure far more than they would like to admit, but who at least pretend to have a semblance of a disconnect.
In this way, it's a fairly new paradigm, and for The Brands—otherwise known as your new lifestyle publishers—it's win-win.
---
Contact the author at dries@jezebel.com.