This year marking the 10th anniversary of the premiere of the television show Lost, and disappearing airplanes being quite (tragically) at the forefront of the international consciousness, and a Lost cast reunion this week burdening us all with the knowledge that Walt "MY BOY" Dawson is now a fully hot adult human man and therefore all of us are literally one million years old, it seemed like an ideal time to revisit all the ups and downs of J.J. Abrams's monsterpiece.
Like anyone else who stuck with Lost to the bitter end, I have a complicated relationship with the show. It is frustration incarnate, OBVIOUSLY, but also I've had more fun watching it than possibly almost any other show that didn't involve Tyra Banks's ego.
Here, for the purposes of your outrage, is pretty much every character ever on Lost in order from worst to best. PLEASE CORRECT ME IN COMMENTS.
---
82. Driveshaft
"Okay, we've got the episode pretty much written—the only thing we still need is the big Driveshaft hit song."
"Okay, how much do we have left in the budget for a songwriter?"
"$10."
"Ummmmmm...my 14-year-old cousin has a Sugar Ray cover band..."
"YES. GET BRAGEN ON THE PHONE. IT'S THE ONLY WAY."
G/O Media may get a commission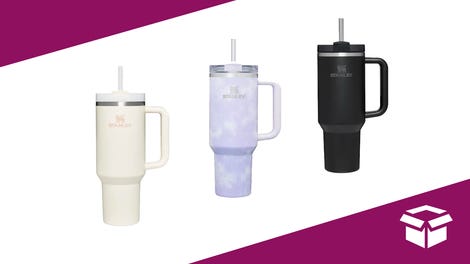 Up to 45% off
Stanley Cup Sale
---
81. Bernard
Bernard is like a machine where you put in trying-to-relax-and-enjoy-your-stories and hives come out. Remember Bernard's stupid S.O.S. sign? Remember when Bernard would get attitude with Rose even though she's a flawless angel? Remember when Bernard was a dentist who didn't know what snow was? Having to watch Bernard for six seasons was like the subtlest form of murder. I will never get my Bernard-hours back. Remember when you think Bernard and Rose are off the show for good and you can finally breathe again and then you come sauntering around a jungle corner all lighter-than-air and then it's KA-BOI-OI-OI-OINGGGGG!
NOOOOOOOOOOOOOOOOOOOOO!!!!!
LEAVE ME BE, FELL GHOUL.
But he doesn't. He never leave you bes.
---
80. Radzinsky
If there's one thing this show needs, it's more hyperventilating aggro nerds who contribute nothing but confusion and chaos.
---
79. Pryce
What? I literally do not remember this guy at all. Apparently he was just a nonstop dickhead until Hurley ran him over with the DHARMA Initiative van. Sounds good to me.
---
78. Omar
Do you even go here?
---
77. Phil
Again. Maybe be more memorable and you won't get impaled, "PHIL."
---
76. Bram
Ditto: Back in the Habit.
---
75. Caesar
Ditto: Legend of Curly's Gold.
---
74. Beatrice
Ditto Goes West.
---
73. Danny
Oh, man, that guy sucked! But at least I remember his sucky face. Tip for "Omar" and "Pryce": Suck more, I guess.
---
72. The Marshal
Total weenis. Kate punk'd this guy hella times, and she is only medium-competent.
---
71. Karl Martin
So, you wore these Burning Man Tron-gogz on your face at some point and I still don't remember anything about your character?
---
70. Cindy
Bore-asaurus Rex.
---
69. Frogurt
I feel like they just shoehorned Frogurt in during that period when everyone hated the show to try and appease us with wackiness. I can't really be that mad at a dude named Frogurt who got murdered with a flaming arrow, but really, what did Frogurt add to my life? Less than actual frozen yogurt and actual flaming arrows, combined or separately, for sure.
---
68. The DeGroots
You dicks got us into this mess. I think. (Did they? What happened in this show again?)
---
67. Alvar Hanso
Again, I'm mad at you and I don't know why. And me not knowing why is also your fault, somehow.
---
66. Zoe
Other Tina Fey came in at the very end of the show and did some stuff that I can't remember but I think must have been annoying because I make lemon-face when I look at her picture. Apparently she's married to Toby from the West Wing IRL. #RichardSchiffFacts
---
65. Jacob
I liked you better when you were a chair.
---
64. Shannahn
SHANNAHN. SHANNAHN. I LOVE YOU. SHANNAHN. DO NOT LEAVE ME. DO NOT DIE. SHANNAHN! SHANNAAAAAAAAAHN!!! I KNOW WE HAVE ZERO IN COMMON AND YOU'VE LITERALLY DONE NOTHING BUT CRY AND WHINE AND FALL DOWN SINCE THE DAY WE MET, BUT I WANT TO TOUCH YOUR BUTT FOREVER IN HEAVEN.
SCREW YOU, NADIA.
---
63. Dogen
Oh, cool. Meaningless obstructionism personified.
---
62. Ilana
WHO IS THAT.
---
61. Charlotte
DUDE. WHY IS THERE ALWAYS BLOOD POURING OUT OF YOUR FACE. BE THE NAPKIN YOU WANT TO SEE IN THE WORLD.
---
60. Naomi
Naomi seemed real important when she was happening, but then after she was gone it was like you came out of a fugue state and started asking who the president was.
---
59. Nikki and Paulo
I know I'm supposed to be mad about this storyline, but since it's kind of the main thing I remember from the entire second half of the show, was it really a "blunder"? Or was it just a hilarious spider-comedy mini-film starring Karl from Love, Actually?
---
58. Horace
I know we all loved Dourtney, but he'll always be Tooms. And I think we can all agree that his most significant life-partnership is with this hair-do.
---
57. Cassidy
Eh.
---
56. Amy
Oh, yeah. She's Horace's wife, right? Way to give birth to Ethan, I guess! And while we're on the topic, WHY DOES ETHAN HAVE SUPER-STRENGTH? What the fuck did you eat during your pregnancy, "Amy"? Was it acai berries? It was acai berries, wasn't it.
---
55. Sun's Boyfriend in Korea
I approve of any and all Korean storylines.
---
54. That Guy Who Got Sucked into the Turbine
Apparently his name was "Gary." I still like him better than SHANNAN.
---
53. The Man in Black
I liked you better when you were a hole.
---
52. Gault
HOW IS THIS GUY A DIFFERENT GUY FROM GOODWIN.
---
51. Goodwin
HOW IS THIS GUY A DIFFERENT GUY FROM GAULT.
---
50. Ana Lucia
I like Michelle Rodriguez, but Ana Lucia is just so GRUMPY. Plus, she shot SHANNAHN, which kicked off like 4 seasons of Melancholy Sayid.
---
49. Rose
Yeah, sure, early Rose is cool when she's just chilling out on the beach, dispensing nonstop unflappable wisdom and insisting that Bernard's still alive, but the problem with that storyline is that BERNARD'S STILL ALIVE. Rose, you could do better. Like, maybe Frogurt! Or a palm frond! How about "Bram"? Literally anyone but Driveshaft.
---
48. Roger Workman
That's a good bit.
---
47. Vincent
I just feel like Vincent could have helped out more. Like, hunt something, dummy.
---
46. Lennon
God, does anyone actually remember anything about these later seasons? Extra points for Deadwood and Eastbound and Down, but that is the ONLY REASON "Lennon" isn't below Vincent.
---
45. George Minkowski
Grandfathered into my good graces via Early Edition.
---
44. Inman
Grandfathered into my good graces by being Clancy Brown.
---
43. Alex
Dated Jeff Goldblum until he left her for me.
---
42. Eloise Hawking
Nothing like "unwittingly shooting a man who turns out to be your adult son visiting from the future" to turn you into kind of a cryptic pain in the ass.
---
41. Daniel Faraday
I have this, like, pathological problem where I cannot tell Daniel Faraday and the kid from Flight of the Navigator and David from Roseanne apart. Does anyone else have that?
---
40. Tom
Amazing beard-work. His spirit-gum game is on point.
---
39. Chyalay
Nope.
---
38. Penneh
PENNEH!!!
---
37. Libby
No, it's fine. I didn't need that incredibly hyped up and tantalizing backstory anyway.
---
36. Juliet
Juliet's okay.
---
35. Claire
CHYALAY! MOI BAYBAY! (Repeat until death.)
---
34. Boone
Boone is the definition of cute privilege. What is his personality even?
But wait...what is a personality, if you really think about it?
---
33. Rousseau
Rousseau's kind of a hysterical, unhinged, walking-uterus stereotype sometimes, but she's also a BOSS.
---
32. Nadia
Man, Nadia got ripped off harder than anyone else in this whole stupid universe. Seriously, Sayid!? SHANNAHN!?
---
31. Mikhail
Probably my #1 favorite eyepatch SCUBA assassin on this whole show. If I had to pick one. Solid work.
---
30. Keamy
Keamy was a major pain in the buns who was always bonking everyone on the dome at the least convenient possible moment, but did you know that actor Kevin Durand is 6'6"!?!?!?!? Ow, my lady-groins.
---
29. Christian Shephard
JGILF. (That's a jungle ghost I'd like to ilf.)
---
28. Charles Widmore
Charles Widmore will always be Caleb to me.
---
27. Locke's Asshole Dad
LOL @ Charles Widmore trynna act like he's the assholiest dad in this whole show. LOCKE'S DAD USED THE POWER OF LOVE TO STEAL HIS SON'S KIDNEY. I bet if Freaks and Geeks had had a second season, Nick's dad would've pulled that same shit. If you look up "asshole dad" in the dictionary there's a picture of Kevin Tighe.
---
26. MOI BAYBAY
Aaron, I know none of this is your fault. But could you fucking be quiet for one second when we're trying to hide in this bush from literal monsters?
---
25. Greg Grunberg
As a rule, I make sure to put Greg Grunberg in the top 30 of every list I make.
---
24. Matthew Abaddon
I would sleep on a flying carpet powered by Lance Reddick's farts. FIGURATIVELY. I'M NOT WEIRD OR SOMETHING.
---
23. Richard
Sleeper hit. Never enough cred for Richard and his perfect face.
---
22. Arzt
Arzt is like Bernard if Bernard got blown up by dynamite mid-whine!!! YES TO ARZT.
---
21. Miles
Miles, I feel you. We are all Miles.
---
20. This Guy
Ah, we were so young then. Back when we thought this guy was going to mean something.
---
19. Jack
You know, it's Jack. It's fine. It Jacks around. It does jungle transfusions. It never asked to be a leader. Jack.
---
18. Kate
Yeah, sure.
---
17. Michael
HAROLD PERRINEAU 4 LIFE. HE JUST WANTS HIS BOY BACK.
---
16. Walt
Walt is the boy.
---
15. Mr. Eko
Mr. Eko would be way higher on the list if he didn't decide to stop being cool and spend 47 years building that stupid beach-church.
---
14. Scott
This was just a solid gag all the way through.
---
13. Steve
STEVE RULZ SCOTT DROOLZ.
---
12. Ethan
Ethan not being on the manifest is one of the single best moments of television that I have ever peed my pants to.
---
11. Jin
God, remember all the Jin + Sawyer buddy comedy!?!?!?!
---
10. Sun
Sun speaking secret-English is almost better than Ethan not being on the manifest. Sun is better than almost anybody, regardless.
---
9. Sayid
Yes.
---
8. Ben Linus
I still have nightmares about this perfect evil mouse-man.
---
7. Helen
ALWAYS UPVOTE KATEY SAGAL.
---
6. Frank La-Penis
DON'T TURN THOSE ICY-BLUES ON ME, JEFF FAHEY, I FORGOT TO BRING A CARDIGAN.
---
5. Hurley
"Dude, you got some Arnzt on you."
---
4. Locke
Obv.
---
3. Desmond
Your forever-boyfriend.
---
2. Sawyer
My forever-boyfriend.
---
1. Polar Bear
Rawr!!!