Donald Trump, a village idiot who wandered too far from home and now, inexplicably, lives in the White House is, as we well know, the purveyor of some very Bad Tweets. And because these are not mere, garden variety Bad Tweets, but rather, Presidential Bad Tweets, they will be preserved forevermore—even the deleted ones.
As the AP reports, the National Archives and Records Administration has informed the White House that all of Trump's tweets, including ones he deletes or modifies, must be saved. The White House has agreed to this directive, delivered in accordance with the Presidential Records Act. According to the Act, all of the President's correspondence must be preserved.
Aren't we the lucky ones! After all, how could we part with gems like these?
G/O Media may get a commission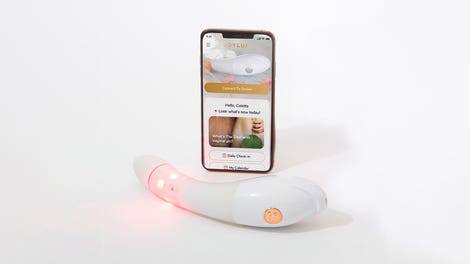 $50 Off
Joylux vFit Gold Device
Last week, the head of the archives, David S. Ferriero, assured Democratic senators Claire McCaskill of Missouri and Tom Carper of Delaware, that Trump's Twitter diarrhea would be saved in full. McCaskill and Carper expressed concern in March, after Trump deleted or corrected a number of tweets. Prior to that, they contacted White House counsel Don McGahn regarding Trump's sophomoric approach to social media.
These queries arise from reports that some White House staff have been told not to use any apps or servers that save messages. Via the AP:
"The two senators also pressed the archives for information about reports that some White House staffers had been ordered to avoid emails or use smartphone apps that do not preserve emails because of Trump administration concerns about leaks to the media. Ferriero told them he was aware of those press reports but said that White House guidance 'to all employees expressly forbids the use of such apps.' Ferriero also said he was not aware of government officials who have been instructed to avoid using email as a method of work-related communications."

Still, as late as January, some of the administration's top figures were communicating under the radar by maintaining private email accounts: senior adviser and son-in-law Jared Kushner, chief strategist Steve Bannon, counselor Kellyanne Conway, and press secretary Sean Spicer all used private accounts hosted by a Republican National Committee system. And while Trump purportedly swapped his unsecured Android for a secure iPhone, he continued to tweet via an unsecured phone until the end of March.
But in spite of these accounts, the National Archives has not delivered clear instructions regarding correspondence to and from Trump's devices. When White House officials were briefed on February 2, Twitter and tweet preservation were the primary focuses. Of course, memos and briefs will not necessarily dissuade the Trump administration from engaging in dishonest behavior. And yet, in the midst of such intrigue and opacity, it seems crucial that every regulation, particularly those regarding executive branch correspondence, be articulated on the record.
We also don't know how, precisely, Trump's tweets are being collected—only that they are. Indeed, the news registers as something of a sick joke, one that the country has played on itself. Since January we've held our breath for impeachment, or for the end of the four-year presidential term, or for some deus ex machina that will obliterate this Boschian horror show. But so much has already happened, and there are limits to what can be undone. Certain things are "preserved for history" whether we like it or not, from jumbled, misspelled tweets to a legacy of narcissistic brutality.