Today is the 50th anniversary of 32-year-old Elvis Presley's wedding to 21-year-old Priscilla Beaulieu at the Aladdin Hotel in Las Vegas, Nevada. For all that the groom would become synonymous with jaw-dropping fashion choices over the course of his career, this was Priscilla's sartorial show—and what a show it was.
The Retro Set notes on Twitter that the pair—who met when Priscilla was 14, by the way, which is sketchy even by the standards of the young marriage mad midcentury—tied the knot on May 1, 1967. But you could probably ballpark the date based on Priscilla's hair alone, which engineered with more power and precision than a high-end sports car. It's nothing in comparison to her veil, though, which must be itself reinforced with Aqua Net. Do you think Lana Del Rey deliberately ripped her entire shit from this photograph, or is this simply the platonic ideal of a LOOK from the era with which Del Rey is obsessed?
According to the Las Vegas Sun's coverage of the event (via People), "Priscilla wore a floor-length wedding gown of her own design: white silk chiffon, with beaded yoke, trimmed in seed pearls and topped with a three-foot tulle veil secured by a rhinestone crown."
That cake, by the way—a yellow sponge, each layer "filled twice with apricot marmalade and a kirsch [liqueur] flavored Bavarian cream … glazed with fondant icing and decorated with royal icing and marzipan roses"—cost $3,200, more than a goddamn Chevrolet.
G/O Media may get a commission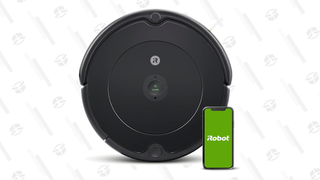 35% Off Black Friday Deal
iRobot Roomba 694 Robot Vacuum
Oh, and let's not neglect to mention her eye makeup. Closeup:

Let's see that veil one more time. Also—the nails.
And here you have the newsreel treatment, which reveals a special detail that doesn't come through in the photographs—namely, that the singer's wedding tux is some shiny patterned brocade situation. Given how much people smoked and the sheer volume of synthetic fabric and hair spray product they wore, it's a miracle there weren't more spontaneous combustions in the late 1960s.