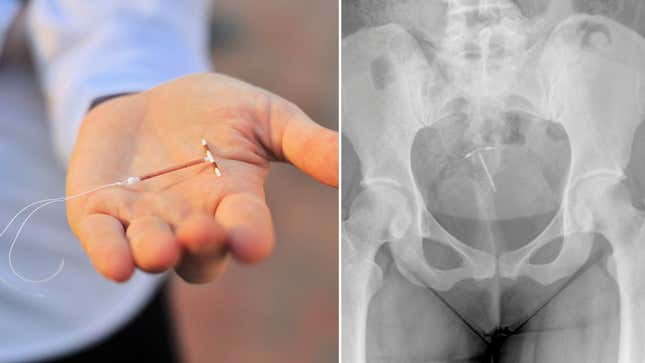 Indiana's state Senate narrowly passed a bill (SB266) on Monday that would require hospitals in the state to offer IUDs or other long-acting reversible contraception (LARC) to people immediately after they give birth. The vote advanced SB266 to the House by a 26-23 margin, with significant support from Republicans: 17 of the votes in favor of the bill were from Republicans, who hold a super-majority in the legislature.

Activist Explains Self-Managed Abortions in Congressional Hearing
Advocates for SB266 say it could be a crucial step toward minimizing the burden of family planning access for people who can get pregnant, as they wouldn't have to schedule additional appointments or consultations to get an LARC. The bill could also help alleviate the pain some people experience from getting IUDs inserted: Dr. Katie McHugh, an Indiana-based OB GYN and board member of Physicians for Reproductive Health, told Jezebel that because the uterus is larger immediately after giving birth, this can significantly reduce pain from IUD insertion.
Still, McHugh emphasized that it's an imperfect bill, as it "doesn't address any of the funding or logistics." Indiana, she notes, struggles with "a paucity of obstetric providers" and people trained with LARC insertion, generally. McHugh also explained that while inserting an IUD immediately after giving birth can have benefits, it might not be the best option for everyone: Some individuals might experience heavy bleeding after giving birth, and "there's also a higher risk of the IUD falling out" if inserted immediately after delivery, which can "put them at a higher risk of an unintended pregnancy within a very short period of time from their previous delivery."
But since the Supreme Court overturned Roe v. Wade last year and a rash of abortion bans immediately took effect (including in Indiana, until a judge temporarily blocked the state ban last September), McHugh said that even with SB266's flaws, increasing access to birth control options in any way is important. It's unclear whether SB266 will have the votes in the House or support from the state's Republican governor—but the relatively broad bipartisan support it drew in the Senate may be cause for hope.
Bipartisan support for SB266 comes as top Republicans in other states and in Congress have framed the fall of Roe as an invitation to go after birth control. Last fall, Georgia Gov. Brian Kemp (R) was caught on hot mic saying he'd consider banning emergency contraception, and in July, nearly 200 House Republicans voted against a bill to codify a federal right to birth control.
Eme Crawford, director of reproductive rights communications at the State Innovation Exchange—an organization that trains and supports state lawmakers to advance progressive legislation around reproductive health and other issues—said Republican support for SB266 in Indiana should be regarded with skepticism. "Anti-abortion legislators' goal is to end all abortions," Crawford said in a statement. "In their support, they're narrowly focused on ending abortions rather than making sure we all can practice the human right to decide if, when, and how we have children."
Some Republicans have previously supported efforts to expand birth control access, including Sen. Ted Cruz (R-Texas), who sought to team up with Rep. Alexandria Ocasio-Cortez (D-N.Y.) to make the pill available over-the-counter. (Advocates have pointed out that Republicans' proposals purposefully exclude uninsured people seeking the pill.) And earlier this year, Rep. Nancy Mace (R-N.C.)—a self-identified anti-abortion "moderate" who supports abortion bans with rape exceptions—suggested that Republican lawmakers justify their abortion bans by making birth control more accessible. Yet, just as the rape exceptions Mace supports rarely help survivors in practice, birth control is not a substitute for abortion: No method is 100% effective, and no one who's already pregnant should be forced to remain pregnant.
McHugh said she's "cynical" about Republican support for SB266 and Republicans' ulterior motives around supporting birth control access, but acknowledged that "it's very difficult to be a Democratic legislator in Indiana, where you're just not able to do much." SB266, she said, "is an opportunity to just try to give people more options."