Eva Longoria is not going to raise her head and keen her depair to the sky if she does not ever become a Procreation Station, she revealed in an interview:
After being asked if she feels pressured to have children, which is a question many women are forced to endure, she said:
"No, I'm not one of those women that's like, 'Oh I must procreate!' So, no. I think kids are a product of love, so if you find the right person and you want to have a family with that person then that's when the time is right. I don't think if I'm 50 and single – I'm not going to go and [have a baby] by myself." [Access Hollywood]
---
Kanye West let 'er rip on Jimmy Kimmel on Twitter after the latter featured a sketch of Kanye's BCC interview as performed by a child. Sample diss: "JIMMY KIMMEL PUT YOURSELF IN MY SHOES ... OH NO THAT MEANS YOU WOULD HAVE GOTTEN TOO MUCH GOOD P**** IN YOUR LIFE..." He also says that Kimmel's ex Sarah Silverman is funnier than him, which is true. Kimmel's joyous response: "Finally, I'm in a rap feud." [TMZ, E!]
---
G/O Media may get a commission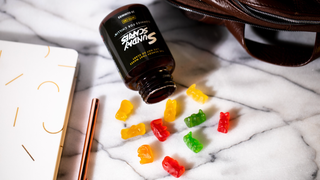 10mg CBD Gummies (22-Count)
Taylor Swift and Katie Holmes have signed on to the screen adaptation of The Giver, with Meryl Streep already cast as the Chief Elder and Brenton Thwaites as the young protagonist. It is about Thwaites' character's coming of age in a utopian society that is without war, famine, or disease, but also without Taylor Swift music. [THR, Page Six]
---
Beautiful alien baby Lorde covers Billboard this month. [Ocean Up]
---
Today is my last day so bye, guys! It's been the rillest.