Sunday night marked MTV's Europe Music Awards, held in Milan and featuring many famous musicians and a few I had to Google. (I do not know how I lived this long without knowing the identity of Stash Fiordispino.) As is typical with pop music awards shows, some attendees went all in, some went all out (too out), and others—such as your friend Justin Bieber, who swept the evening—arrived in cozier looks, like they do this kind of thing all the time. Also, Ed Sheeran rightly bowed down to Ruby Rose and her "Love Rules" gown, one of seven outfit changes as host.
One of Ruby Rose's seven ensembles included a flattering low-cut velour tuxedo suit that, somehow, served as the perfect accessory for the real scene stealer of the evening, her hand tattoo. The braided hair crown is cute, too. Hailey Baldwin seemed to be covered solely in thread, half a bikini top, and scraps from the carpet at an upscale Vegas hotel, and yet somehow everything functioned properly. Green and purple are good colors for her!
Italian pop singer Levante, here with her typically bemasked husband The Bloody Beetroots, is both flashy and provincial in her own interpretation of a plunging neckline, a gilded Alberta Feretti patterned structurally yet with a sense of propriety and sweetness to it.
G/O Media may get a commission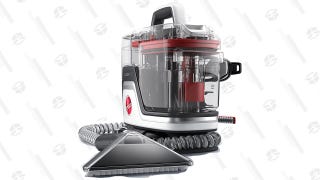 Save $10
Hoover CleanSlate Plus Carpet & Upholstery Cleaner
Pretty Little Liar Ashley Benson is clearly used to going out in Hollywood; her sheer-skirted, beaded gown and business-ready blazer is versatile enough for dinner with her agent, a casual/disinterested date set up by a publicist, and this fun Italian red carpet as the afterparty. Model Bianca Balti is trying to have more fun than that, though, humblebragging that she's super not cold at all in lamé hot pants, matching jacket, and croptop that are best pulled off if you are A. an Italian supermodel or B. CLUB. Ellie Goulding continues her streak of simple elegance with her own plunging neckline which, paired with a new creamsicle dye job, gives her the illusion of a rave Jessica Rabbit.
If you're not an awards show host, changing looks upwards of maybe three times is excessive, but Charli XCX and Jess Glynne show how to make costume switches but still dress in the same family of ensemble. Charli's silver space baby look on the red carpet morphed into an onstage version of a silken electric-yellow bagged version of it, while Jess's sleek red cut-out dress became an avant-garde mock turtleneck look with the ever-less-unlikely flare silhouette. Both could be going to a rave after this, in 1998, 2008, or 2118 (probably).
Dudes seem to have it a little easier, no? Afrojack and Jason Derulo (with two unidentified friends) just rolled up in t-shirts and sneakers like, "Hello, we make millions of dollars every time we breathe." Macklemore, Ryan Lewis, and Eric Nally look a little like Macklemore and Ryan Lewis going to a Halloween party as themselves when they ran into the mask of Zorro on the way in. Tinie Tempah at least tried in a multiprint patterned jacket that, miraculously, matches the step and repeat.
If my name were Elettra Lamborghini and I were the heir to the namesake car fortune my grandfather created, I would wear shit like this too. No regrets. That said, I was hoping we'd enter a red carpet season that finally killed the sheer-skirting look dead, but alas: the twin sisters of EDM duo Nervo have taken it to its logical horrible conclusion in knee-high boots and patterning straight from the design eye Lucifer himself, something that I would lament slightly more if it didn't afford me the opportunity to type the phrase "Nerv-NO!" My life is complete. Shay Mitchell, another Pretty Little Liar, is lovely but is being swarmed by that gown—there's something so old about it, like it would be more appropriate in a film character about a chainsmoking 1970s PR magnate played by Carol Burnett. Tori Kelly's party frock is much younger, but the '80s side-do isn't doing too much for the overall style.
At first the group looks of Fifth Harmony really depressed me, but as they go on and their star rises infinitely, I am impressed by their commitment to Miami-megaclub-on-a-Wednesday chic. Never stop doing you, Fifth.
The couples that dress together stay together, and all of these wonderful humans look great. Veronica Berti with her husband Andrea Bocelli kept it sleek and simple, dressing up the looks with fabrics—lace, velvet—rather than fussiness. Josephine de la Baume and Mark Ronson had a flossier variation on that theme, with textures ruling and Ronson singlehandedly resurrecting the shiny suit. Don't worry Ronsy, it'll be back soon enough. Pro footballer (that's soccer to America) Kevin-Prince Boateng and wife, Italian TV presenter Melissa Setta, look like they moonlight as a cool husband-and-wife DJ team (Laidback Luke and Gina Turner?), while Pharrell and Helen Lasichanh forever match their going-out looks, always on the same elevated level of chill. Love is beautiful.
Duran Duran look exactly the same as ever, but my dad. 'Til next time!
---
Contact the author at julianne@jezebel.com.