Irish retailer, Primark, made inroads to the American market in September, looking to compete with the likes of Forever 21 and current king of fast fashion, Zara. Now the teen-focused chain is expanding its reach into the market by producing low-priced, Instagram-friendly clothes. In Europe, the retail chain is known for its ultra-cheap trendy offerings somewhat on par with H&M, but even cheaper. Where an average H&M outfit might run $23, the Primark-iteration costs closer to $14.
Owned by the Weston family, the family who also controls your mom's Twinings tea, Primark currently has two stores in the United States: one in Boston and the other in suburban Philadelphia hellhole, King of Prussia mall. In 2016, Primark plans to open a significant number of stores throughout the U.S., expanding their global empire of cheap mini-skirts and club-ready clothes.
Bloomberg Business reports:

Price is by far the biggest reason Primark is the undisputed victor in Britain's cheap-fashion war. Secondary are its up-to-the-minute designs, jazzy stores, and tireless promotion on social media. Primark doesn't sell online and barely advertises. Instead, customers advertise it for free, posting thousands of selfies with their latest outfits, using the #Primania hashtag to be rated and critiqued. The best images get cycled onto giant in-store LED screens to spur impulse buying.
Some #Primania examples:
G/O Media may get a commission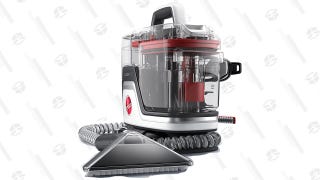 Save $10
Hoover CleanSlate Plus Carpet & Upholstery Cleaner
Instagram seems integral to Primark's success, Bloomberg notes that each store has Wifi and #Primania is written on the mirrors of every fitting room. And then there's this fun nugget:

Deep couches with charging ports are placed at strategic intervals, including one set up as a man cave for bored boyfriends, with ESPN on a TV.
Like all fast fashion, cheap clothes can cost a lot in respects to workplace safety and workers' rights. Primark produces its low-cost clothes in Bangladesh and was one of the many retailers using Rana Plaza when the building collapsed in 2013, killing over 1,000 people. "As one of the drivers of fast fashion, which we've seen has overall had a significant negative impact on workers' rights, [Primark] has a lot to answer for," a labor reformer told Bloomberg.
But alas, that doesn't seem to have deterred eager shoppers; last year Primark earned over £5.35 billion. So welcome your new fast fashion overlord, and enjoy the teens wearing this outfit.
Image via AP.