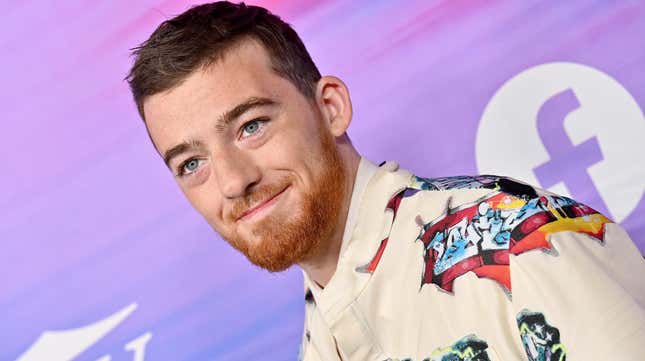 On Monday, Angus Cloud's family announced the tragic news that the 25-year-old Euphoria star had passed away in his native Oakland, California. A cause of death has not been released, but an "active death investigation" is underway, according to reports.
"It is with the heaviest heart that we had to say goodbye to an incredible human today," Cloud's family's statement read. "As an artist, a friend, a brother and a son, Angus was special to all of us in so many ways."
"Last week he buried his father and intensely struggled with this loss," it continued. "The only comfort we have is knowing Angus is now reunited with his dad, who was his best friend. Angus was open about his battle with mental health and we hope that his passing can be a reminder to others that they are not alone and should not fight this on their own in silence."
Cloud's breakout role as Fezco O'Neill, a drug dealer with a heart of gold on the HBO drama series Euphoria, was also his first. As the story goes, fame found Cloud in 2018 when a casting agent approached him on a street in Manhattan and asked if he'd audition for what's become one of the network's most talked about shows. At the time, he was working as a waiter. The internet—and seemingly anyone who crossed his path—would soon fall in love.
Cloud's castmates are fondly remembering and paying tribute to the actor in the wake of his untimely death.
"Words are not enough to describe the infinite beauty that is Angus (Conor). I'm so grateful I got the chance to know him in this life, to call him a brother, to see his warm kind eyes and bright smile, or hear his infectious cackle of a laugh (I'm smiling now just thinking of it)," Zendaya wrote alongside a black and white photograph of Cloud on Instagram. "I know people use this expression often when talking about folks they love…"they could light up any room they entered" but boy let me tell you, he was the best at it. I'd like to remember him that way. For all of the boundless light, love and joy he always managed to give us. I'll cherish every moment."
Storm Reid, who portrays the little sister of Zendaya's Rue Bennett, shared a photo of Cloud on her Instagram story, writing: "The tears just won't stop." Javon Walton—who plays Ashtray, Fezco's younger brother—posted a photo of the two of them hugging on Instagram with the caption: "rest easy brother❤️🕊️." Colman Domingo, aka Ali Muhammed on the show, posted a group photo with the caption, "And that was his smile. That was him. May he rest sweetly in peace."
In a statement, Euphoria creator and director Sam Levinson told Deadline: "There was no one quite like Angus. He was too special, too talented and way too young to leave us so soon. He also struggled, like many of us, with addiction and depression. I hope he knew how many hearts he touched. I loved him. I always will. Rest in peace and God Bless his family."
Variety's Selome Hailu, who profiled Cloud last year for the Young Hollywood issue, also wrote a deeply felt, truly touching tribute about her time with Cloud. She fondly remembers spending a day with him in Los Angeles in which they grabbed an ice cream cone from Mateo's Ice Cream. Hailu recalled that Cloud wanted to buy one of the hats worn by employees, but the shop was out of stock. Later, at a party for the issue's release, she observed the following:
"Cloud wasn't interested in networking and didn't pay any mind to the Hollywood types present—besides one executive from his agency, who understood what he really wanted and handed it to him. With glee, Cloud unwrapped his gift: a simple black baseball cap that read 'Mateo's Ice Cream.'"
Rest in power, legend.
---