Riccardo Tisci has premiered a sneak preview of his spring 2014 campaign, and everyone on the Internet is very pleased (or they should be! ARE YOU NOT PLEASED?) because it will feature the amazing and talented Erykah Badu— and Maria Borges, Riley, and Asia Chow, all of whom are models of color.
Here's a preview of the campaign, via Style.com:
"Erykah, she's an icon — come on!" said Tisci in an accompanying interview, adding that he had the singer in mind when designing the collection. "She's one of the most stylish women I've met in my life. She's got such a good sense of proportion, of colors."
He then went on to discuss the state of race in the overwhelmingly white industry:
There was a lot of talk this season in fashion. Me, I was one of the persons who ended up not being touched by this. I discovered Joan Smalls, I discovered Maria [Borges]. I discovered a lot of black girls, and I've been always supporting them. For me, I grew up in a family and I grew up in a culture, an education, that we all are the same.
G/O Media may get a commission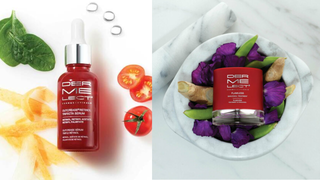 Save $19
Retinol Renewal Kit
I mean, no human really has the authority to position himself outside of society or the industry in which he actively participates. Plus, saying "I discovered a lot of black girls" seems to do more to reflect the idea of institutionalized racism than to undermine it, and it pretty much invalidates Tisci's claim that he thinks "we are all the same." With that said, though, it is true that Tisci has been quite active in promoting women of color in campaigns and on the runway. (Style.com notes that he's "championed Grace Mahary, Dalianah Arekion, and Daniela Braga, among others" in the past). Tisci goes on to add, in a very typically fashion-industry manner, "People can be so avant-garde, so advanced, but actually not, because people are still making differences between skin color."
This is a good step in addressing the egregious lack of diversity in fashion. Seeing models of color represented in the campaign for one of the most renowned luxury houses in the industry in the world is wonderful. It casts hope on the idea that fashion might at long last attempt to overcome the massive race problem it's had since its tender inception. In the past year, this problem has become impossible to overlook or neglect: several influential fashion figures — including Naomi Campbell, Bethann Hardison and Jourdun Dunn — have publicly and passionately brought attention to racism on the runways. "Whether it's the decision of the designer, stylist or casting director, that decision to use basically all white models, it reveals a trait that is unbecoming to modern society," wrote Hardison in an open letter addressed to several fashion councils. "No matter the intention, the result is racism."
Concerns about the clumsy way that Tisci addresses race in interviews aside, this is wonderful, amazing, encouraging news. Erykah looks gorgeous; I can't wait to see the rest of the campaign.
Image via Getty.