Oh my.
If you thought seeing Nick Jonas' adorable, toned butt in a few magazine spreads was a big, ground-shaking, purity ring-melting deal, THINK AGAIN. Turns out, those tushy-teasers have all just been a big lead up to Full On Legit Jonas Brother Sex Scenes, courtesy of his new show, Kingdom.
In Kingdom, a drama series for DirectTV, Jonas plays an MMA figher...who likes fucking, I guess. According to Gossip Cop, Jonas seems pretty psyched about the role and the chance to dive into some hardcore sex scenes: (Pretty much everything after this is NSFW. Very, very NSFW.)
When a fan asked Jonas if he would ever consider doing a nude scene for a project, the performer revealed, "Oh, I just did a lot of nudity." He added, "Yeah, there was like three or four sex scenes [in 'Kingdom']." Jonas also hinted that his character may be questioning his sexual orientation in future episodes. He explained, "Another little thing is my character has a big storyline… revolving around his sexuality."
Behold, a Jonas brother faking an orgasm on camera for a television show:
G/O Media may get a commission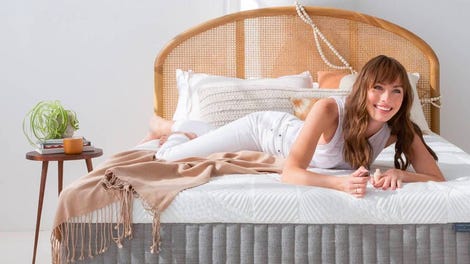 Sleep Sale
Sleep Sale - Brentwood Home
Ever since this clip was posted to Vine by user DemiLover, some people have totally been losing their shit. I didn't grow up with The Jonas Brothers as my purity teen idols, (because I am an Old, not because I was "too cool" to be a fan) so I don't have quite the same reaction as someone like poor, traumatized Alexis Rhiannon at Crushable:
no no no no no no no nope. No disrespect to you, Nick, but one thing I really did not need to see today was your fingers in someone else's butt crack. And then he finishes?? I need to bleach my brain so hard that it forgets everything it knew about teenaged Nick and everything it knows now about this new Nick who is so aggressively entering this nice young lady. Everything is ruined. This cannot be unseen. Please send help.
Sure, you can get caught up in all the Jonas body sweat and moaning. But never forget what Hollywood sex scenes are really like to film.
Image via Flaunt.