If you thought that climate change-denying fossil fuel industry shills wouldn't be interested in participating in Earth Day, you would be very wrong—oil, after all, technically does come from the earth. ThinkProgress reports that the Koch-funded Independence Institute is promoting an "Earth Day Fossil Fuels Art Contest," requesting artistic submissions that "showcase the awesomeness of fossil fuels." Hm?
According to ThinkProgress, the Independence Institute is funded by a number of foundations associated with climate denial-funding billionaires Charles and David Koch, along with the National Rifle Association, the Anschutz Foundation—whose right-wing billionaire founder we may have to thank for Neil Gorsuch—and dark money "ATM" Donors Trust. Amy Cooke, executive vice president and director of the Energy Policy Center at the Independence Institute, gave ThinkProgress one of the troll-iest comments I believe I have ever seen:
Cooke told ThinkProgress that the organization's fossil fuels art contest is rooted in inclusivity. "Fossil fuels seem to get left out of the Earth Day celebration," she said via email. "As an energy feminist — pro-choice in energy sources — I feel it's important to have hydrocarbons equally represented."
Cooke was a member of Trump's EPA "landing team," and has used the "energy feminist" line before; she told ThinkProgress that the Institute is "energy agnostic" and "encourage innovation instead of over regulation," but did not respond to inquiries as to whether the Institute had ever advocated on behalf of wind or solar power.
This isn't the first time the Koch brothers have been tied to bizarre efforts to downplay the negative impacts of burning fossil fuels. In her 2016 book Dark Money, Jane Mayer highlights an exhibition at the David H. Koch Hall of Human Origins at the Smithsonian Museum of Natural History in D.C.:
The message of the exhibition, funded by his fortune, was that the human race had evolved for the better in response to previous environmental challenges and would adapt in the face of climate change, too. An interactive game suggested that if the climate on earth became intolerable, people might build "underground cities" and develop "short, compact bodies" or "curved spines" so that "moving around in tight spaces will be no problem."
G/O Media may get a commission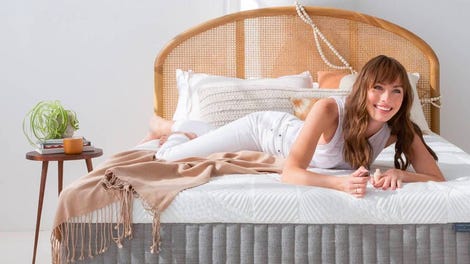 Sleep Sale
Sleep Sale - Brentwood Home
What fascinating times we live in. If you happen to know of anyone who has submitted a piece of artwork showcasing the awesomeness of fossil fuels to the Independence Institute, please do reach out to the email below.