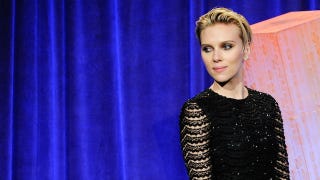 Scarlett Johansson, who is widely considered one of the most beautiful people on the planet, sat down with Barbara Walters recently to reveal this humbling tidbit about herself: Asked if she likes her body, Johansson replied that she only thinks it's only "okay." Looks like stars really are just like us (i.e. brimming with self doubt and loathing).
"It's an okay body, I guess. I wouldn't say it's particularly remarkable, though," Johansson said in response to Walter's (exceedingly stupid) question about her figure. "I don't like my thighs, my midsection, but ... I'm not going to complain! I got thighs and a midsection, so I'm happy."
(Thank you, ScarJo, for checking your midsection privilege.)
You can look at her statement in two ways:
1. EVERYONE—even Scarlett Johansson—has insecurities, so you should probably go a little easier on yourself and realize that, to the outside world, the thing you're most insecure about is either unnoticeable or looked upon flatteringly.
2. This is the type of thing that attractive people say all of the time in order to seem charming and relatable, but guess what? YOU'RE SMARTER THAN THAT and feel neither charmed nor related to.
Go with whatever option makes you feel your most powerful.
[ HuffPo]
---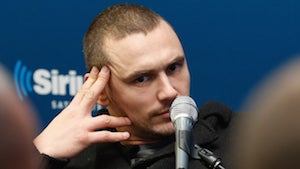 Asked by a Howard Stern about whether or not he's ever hooked up withLana Del Rey, James Franco insists that his relationship with Corpse Bride—which began in a graveyard on a cold spring day—has never been anything but platonic. He would, however, like to fuck her music:
"There's a weird thing with creative types," Franco explained. "Sometimes I love a person's work and, like, I'm just so enamored with that and their persona in their work. But outside of that, it's like, our dynamic is we're just kind of friends, we get along so well. But all this sexual attraction is for the person and the work... I would have sex with her music."
He will never not be the most annoying kid in your community college art class. [E!]
---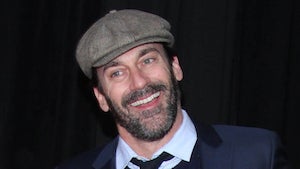 At a screening for the Black MirrorChristmas special, Jon Hamm told RadioTimes that he is "old and irrelevant." He continued, "Ask anyone under the age of twenty if they have heard of me and they will go 'no, that guy looks like my dad'...It doesn't compute to the generation that most of Hollywood cares about. If your last name's not Hemsworth or you are not in One Direction or you don't wear a cape and tights for a living, you literally have a hard time making an impression."
You doing okay, Jon? [ RadioTimes]
---
Photos via AP, Getty.