Let's be real here: I'm vain as shit.

It's not that my makeup needs to be perfect, or that I even need to wear makeup at all. It's not that my skin needs to be perfect, although I'm lucky to have fairly clear skin most of the time. It's the hair that makes me; the one thing that differentiates me from every other of the more than 341,000 Emilys in the U.S., according to howmanyofme.com.
My life can be divided into chunks based on my hair: before I learned how to use product, after I learned how to use product, short, and blonde. When I was a kid, people used to describe me as Shirley Temple because of my auburn ringlets—but recently, the checkout lady at the grocery store called me Marilyn Monroe which, like, fine. I spent over an hour at a party recently bonding with a stranger about our short hair.
My hair is my life force. It must be perfect, or else I die.
But for now, I'm alive, and I'm awake, and it's 7:15 am, and I need to get out of bed. I slink into the bathroom.
I have a philosophy of brushing my teeth before showering, because it means I can get whatever enamel toothpaste I use all over my face and not worry. Once I'm minty fresh, I get in the shower, which is where the hair ritual really begins. In October, I went from being a lifelong brunette to an icy blonde, and my tried-and-true hair routine had to adapt. But this old curl dog can learn new curl tricks, so I wet my hair and comb (with my fingers—you think I own a comb?!) a big dollop of Shea Moisture Raw Shea Butter Restorative Conditioner through it.
G/O Media may get a commission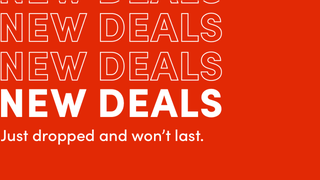 Up to 70% off
Wayfair - Cyber Week Deals
I then wash my face with La Roche Posay Toleriane Hydrating Gentle Face Cleanser, which I use because Rose, the Gizmodo science editor who has perfect skin, told me it's a dupe for Glossier's Milky Jelly. I honestly can't tell if I like it too much, but I can only find the cleanser I used for the good portion of a year (Dr. Belmeur's Foaming Cleanser) in one shop in Midtown, and making the trek seems like more work than it's worth. Sometimes, I use St. Ives' Green Tea Blackhead Scrub because I like the green and its medium-exfoliating level. Then I squirt some Jason Tea Tree body wash into a loofa. I don't really like the scent of it, but I'm too stubborn to waste a huge jug of soap.
I don't use shampoo—or at least I didn't until I went blonde. Now once a week I use Shimmer Lights Purple Shampoo, which I leave in for like f minutes, or until the anxiety of accidentally dying my hair purple becomes too much to bear. After using the purple shamp, I condition like normal, but add on some Amika Nourishing Mask in Soulfood, which I leave in for the duration of the shower before rinsing.
Once I'm clean, I put in my contacts and run some Mixed Chicks Leave-In Conditioner through my hair, before parting it and starting to scrunch or smooth down, depending on what side of my head I'm working on. My haircut's kind of asymmetrical? It's fun.
I get back in my room around 7:40, put on my terry bathrobe because I'm 90 years old, and turn on my clock radio so I can hear the day's headlines and subway disasters I need to avoid once I finally commute to the office.
Now, for hair styling. I mix 1.5-2 pumps DevaCurl Frizz-Free Volumizing Foam plus one pump of DevaCurl Curl Cream (NOT Supercream, there's a difference!) in my hands before scrunching it through my hair and smoothing down the side and back to make sure the undercut-y parts don't curl up, as that is illegal. A few steps into my skincare routine (in a minute), I'll scrunch my hair again with a cotton t-shirt to remove more water and cement the curls in place. Then, under no circumstances, do I touch my hair for at least an hour
Here's my problem: I have too many skincare things that I kind of just gloop on my face and hope work. The things I'm mentioning here are nowhere near all of what I sometimes use in varying permutations, but this thing would be far longer than it already is if I tried to go into it. Please don't make me explain what I do, I simply can't.

I'm lucky that I don't really have too many skincare things to worry about, and the things that do bother me I have no clue how to solve.
Namely, redness. To try and stymie that, I swipe Thayers Witch Hazel Alcohol Free Toner in Rose Petal all over my face, before rubbing on a squirt of Innisfree Green Tea Seed Serum. Will cutting out dairy or gluten from my diet help fix this unfixable redness problem? Maybe. Eh.

Depending on my mood and on how many zits I have, I'll then dot Innisfree Blemish Care Spot Serum with Bija Seed Oil and smear Innisfree's Cica Balm With Bija Seed Oil over it. Then comes time to slather on my ol' faithful everywhere moisturizer, First Aid Beauty's Ultra Repair Cream. While that's absorbing, I'll get dressed, put on my HOLY GRAIL deodorant, Secret Clinical Strength Smooth Solid in Stress Response. It's Oprah recommended for rodentine, sweaty ladies like myself.
Once I'm dressed and the moisturizer's soaked in, I'll put on Biore's UV Aqua Rich Watery Essence Face Sunscreen. It's SPF 50 and I use it every day year-round. Sunscreen: important!
It's 8 a.m., which means I must pop onto Slack before anyone thinks I've died. It's also time for makeup. For the most part, my makeup routine has stayed the same since I was in college, because I am "allergic" to "some makeup" based on some pretty bad allergic reactions on my eyes (!!) that may or may not have been because of stress/eczema/cheap nail polish/all of the above. Lately that's been fine, but I'm not doing anything super exciting.
If I'm breaking out (like I am a little today) I'll dab on some Sephora Concealer on my trouble spots before brushing on Cover FX Total Cover Cream Foundation. Sometimes I'll use the Laura Mercier Tinted Moisturizer instead, but it really depends on my mood. I'll then put a line of Stila Smudge Stick Waterproof Eyeliner in Damsel on my eyelid, do some lines of Becca Shimmering Skin Perfector Pressed Highlighter in Vanilla Quartz on my nose and cheeks, and then make sure it all stays put with Tarte Smooth Operator Pressed Powder. Then I'll brush my eyebrows (they're bushy and unruly) and paste them in place with clear Maybelline Great Lash Mascara (I'm too lazy to go to Glossier for Boy Brow) before putting Maybelline The Colossal Mascara in Brown/Black on my eyelashes and spritzing some NYX Dewy Finish Setting Spray on my face.
Now it's to the Q train and my iced coffee cart and the office. As I walk up the stairs, I finally crunch my curls to free them from their product hold.
MIDDAY
Lunchtime. I pop two Lactaid pills and eat some pizza with the GMG Union bargaining committee. The soap we use in the bathrooms at GMG is a bit drying so I keep a tube of Eucerin Advanced Repair and Weldea Skinfood at my desk, and either will do. I'll swipe on some Carmex if I remember and am feeling parched enough.
It's humid out today and I wish I'd brought more pressed powder to dust on my face before I go out later, but we all make mistakes.
EVENING

A long work day is over and the Gizmodo staff is heading to a bar down the street for Holiday Drinks. If I were smarter and thought ahead, I would have popped my favorite curl refresher, Not Your Mother's Beach Babe Texturizing Sea Salt Spray in my backpack this morning. But, alas, I'm stupid.
Time for me to put on one of the two colors of lipstick I own: Bite's Matte Lip Crayon in Blood Orange. I find it fun to draw the outline of my lips before filling in the rest, and think it would be a fun look to just wear it like that, but not tonight. I blot with a tissue and run to join the team for chicken fingers and beer.

MIDNIGHT
I've been home for a few hours, caught up on some TV, and am finally getting ready for bed despite having sat there for the past few hours doing a whole lot of nothing. Time to put the hair in a headband and take off my face.

Since I wore lipstick, I'm going to wet some toilet paper and scrub my lips to get some off, and finish off the job with my toothbrush. It works, it exfoliates. Then it's time to take out my contacts, brush my teeth and use some Target Generic Brand Mouthwash. Then I wash my face with the same cleanser as earlier and either use Caudalie Micellar Cleansing Water or Cetaphil wipes to take off the rest of the makeup the water/cleanser missed.
Slathering-things-wise, I normally just do something similar to my morning routine. Sometimes I'll use a sleeping mask from Innisfree or my favorite sheet mask (7 Wonders Amazonian Acai Anti-Pollution Mask). But because god hates me, I'm breaking out, so I'm going to use the Ordinary's AHA 30% + BHA 2% Peeling Solution. It makes me look like my face is bloody, which I find kind of metal. I set a timer for 10 minutes and sit quietly or send some selfies of the blood!face to friends. I wash that off, put some more of that green tea serum on, and mix together some Ultra Repair Cream with a tiny dab of Trader Joe's Jojoba oil and glop it on. Sometimes I'll do a second layer of moisturizer if I'm feeling dry. Then I get myself a big ol' glass of water for when my body punishes me for not hydrating enough by waking me up in the middle of the night and try to get some rest before doing it all over again.