Singer-songwriter Emily Warren says one of the nice things about her relationship with EDM-pop-rock duo The Chainsmokers is that, because she's spent so much time with them, there's less pressure on her to craft a masterpiece in one go. But that's exactly what she did the first time she sat down to write for them. Out of that first session came "Don't Let Me Down," which went on to top the charts, won a Grammy for Best Dance Recording, and became The Chainsmokers' calling card as they transitioned from frat-EDM to anthemic summertime pop. Shortly afterward, they asked her to go on tour with them.

"Don't Let Me Down" helped launch The Chainsmokers into the public eye, but it's just one example of Warren's ability to write polished songs that have a pleasantly weird touch—work that happens, for the most part, behind-the-scenes. It also only shows one side of her artistic palette; the list of artists she's worked with is as long as it is wildly diverse: Dua Lipa, Shawn Mendes, Haim, Backstreet Boys, Charli XCX, Khalid, Sigrid, David Guetta, and Florida Georgia Line, to name a few. In her own short career, Warren has demonstrated chameleonic expertise, that she can slide into different rooms, talk to anyone, and bounce between genres with ease. But over the years, in the process of helping other artists manifest their visions, Warren realized she had something to say herself. On October 5, she released her debut album Quiet Your Mind.
"It's been therapeutic to get it out," she says over the phone. Sonically, the album is plucky and sunny. Warren's vocals and delivery lend each song a soulful quality. And the songwriting, with all its talk of navigating budding relationships ("Just Click," "Say It") and wondering about the future ("The Point," "How It Ends"), reveals that Warren is adept at distilling her emotions into simple, relatable hooks. "You're not going to like this story if you know how it ends," she tells an overly anxious potential romantic interest on the opening track. Our conversation below has been condensed and edited for clarity.
---
JEZEBEL: Could we start by talking about what drew you to songwriting for other people? I'm curious about whether there was a moment when you realized it was something you really enjoyed and that you were good at.

G/O Media may get a commission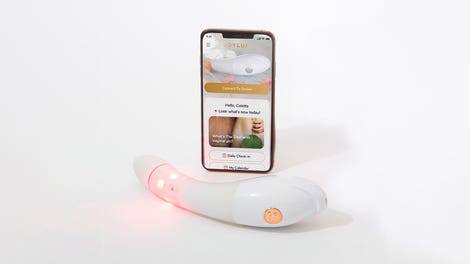 $50 Off
Joylux vFit Gold Device
EMILY WARREN: I actually am lucky in this regard because I got into music when I was in middle school, before I was thinking at all about a career or what I was going to do. And I kind of got sucked into it really quickly. I had a band at the time—we were called Emily Warren and the Betters. We played around New York City. And then the band split up when I was about to start at the Clive Davis [Institute of Recorded Music] at NYU. And I didn't really know what I was going [to do]. Someone managing me at the time suggested I go in and write with someone else for someone else, which I was really resistant to, because I used to say that I'd never write songs for other people. But over time, I totally fell in love with it. I think, one of the problems with my band was that we didn't have any cohesion. One song would be a pop song and then a reggae song and I found that writing for other people, I got to dip into all those things. It became the main focus for a long time, but throughout all that, I think I had the bug where I still wanted to sing my own stuff and that's what this album ended up being.
Your name was in the name of your band, so you were obviously the frontwoman. Do you kind of consider yourself a singer before a songwriter? Or are they intertwined for you?
It's funny. My band came together because I asked them to come play a few shows with me and then we [decided to become] a band. That's why the name ended up being like that, because it was just Emily Warren before. But yeah, I was a songwriter first and foremost. That was the first thing that I fell in love with. I always felt like I was singing to sing the song that I was writing. And then I think, even now, even though I love singing, the reason I wanted to put this album out wasn't just to sing it. It was like, this is my story. So I wanted to be the person communicating it.
You wanted more control over the process.
Yeah, exactly.
Was it harder to be the person with the vision?
It was both hard and easier. When I'm writing with other people, I go into the room, I write the song, and then it's completely out of my hands. Which is fine, most of the time. But I love choosing artwork and thinking about videos and all that stuff, and it got to a point where I was like, "I wanna do that." But also, most of the artists I work with have labels and this whole squad and we did [Quiet Your Mind] independently. So it was a huge responsibility to keep all the moving parts together and get people to stick to deadlines. And also there is the responsibility of, this is me deciding these are the songs [I want on the album] and it's on me if it goes wrong and everything kind of is. So it was definitely daunting. But that challenge made it worth it and fun.
How much time do you typically spend with other artists when you're writing for them?
It really depends. My preferred way is to get in the studio with them for a week or more, even if it's spread out over time, just so we can dig in. A perfect example is The Chainsmokers, because we've done so much and spent so much time together, so there's not so much pressure to get something amazing every time we sit down. You can be creative and take risks and then, you know, if you get one amazing song in a week, that's great.
Yeah. It sounds like you've built up a level of trust with them.
Right. And that's ideal. Honestly, because there's a lot of artists that I get one day with and if you don't kill it in that one day—or it's not a perfect situation, which is not that uncommon—that was your one chance with them. And it's kind of more fun to build something, and feel more freedom to be creative and try things and not have to like, get a hit right when you sit down.
At what point did you write "Don't Let Me Down" with them?
Before I met them, I had a song called "Until You Were Gone" that I had written just as a pitch song. Someone sent it over to them and they loved my voice on it. I met them a few months later at a show, where I sang the song. And then the first time we had a session together, the first time I actually sat down with them, we wrote "Don't Let Me Down." So that's kind of why the relationship has been so special, because like—that was the first time we met, so we obviously have some creative chemistry. So it's been awesome, going from then to now. All the fun things we've been able to try and experiment with.
I was going to say, you write across a lot of genres and I was wondering if it's ever intimidating to write something for like, The Florida Georgia Line when, you know, you're bouncing around these like different spaces. And you've also worked with these bigger pop acts.
First of all, I think it's really fun for me to kind of be all over the place. 'Cause I'm obviously such a music lover that it's fun not to be restricted to one genre necessarily. But when I'm in the room with an artist, it's all about them and their story and their sound, and I'm just there to support them and help bring out the best in them. So that makes it easier to jump from genre to genre.
Do you ever feel like a therapist?
One hundred percent. Everyone always says that. They're like, "Now do we need to pay you for therapy?" But I'm genuinely interested when I'm asking, and it's cool that we can sit down and they can release something and get a story out and put it in song form and have something to show for it. And have the therapeutic experience of letting it go.
What kind of stuff did you listen to growing up?
My dad was always playing '60s rock music, so there was a lot of that. A lot of Motown, Burt Bacharach. My brothers were always listening to like Lil Wayne and Eminem.
Older brothers?
Yeah, older brothers, exactly. And then when I was old enough to start listening to my own music, I loved the Arctic Monkeys and Feist and Gavin DeGraw and John Mayer. John Mayer's a big one for me, because I kind of was falling in love with his writing just as I was starting to write. I've been really influenced by his storytelling and how he matches the emotion and the lyrics with the melody and everything. I just think he's like an unbelievable songwriter.
How much of your personal life is in these songs?
All of it. [Laughs] Every line, every single song, everything is completely true. Which has been really, obviously again, therapeutic to get it out, but it's been nuts and really, really rewarding honestly seeing people react. And feeling like, it's exactly what they're going through, which I've always felt like comes from being really honest. So it was definitely worth it.
Do you have a sense of who your fans are right now, or is it sort of changing right before you?
It's been really crazy how people are reacting and posting and sharing [the album]. I think I had—because I went on tour with The Chainsmokers last year—a lot of Chainsmokers fans, but it's cool seeing that I'm getting my own fans since the album's come out.
Did you have much experience with singing live before going on tour with them? Obviously you were in a band.
Right, but no, definitely not. When they asked me to go on the tour, I was like, "Do you guys realize that I've pretty much only played at [East Village venue] The Bitter End before this, in front of like, 30 people, and now there's going to be 10,000 people every night?" Which was crazy, but I learned a lot from me doing it and even just, their faith in me being able to do it helped me do it.
There was a point when I couldn't open Instagram on a Saturday night without hearing "Don't Let Me Down" on everyone's story. Do you think The Chainsmokers have what it takes to stick around in the post-"Don't Let Me Down" world?
Yeah, I think ["Don't Let Me Down"] certainly started their crossover to pop, although "Roses" before that [also] kind of started it. But then they had "Closer" after that. And now I think they're starting to transition into more of a band thing. Which is cool. Because I think, although electronic music may kind of come and go and not really be a thing anymore, bands are way more long lasting, and I think their songs are getting, if nothing else, more interesting and kind of introspective. So I think they're building something that can last, for sure.
What do you see the rest of your year looking like? You have the record out, but I know you worked on Sigrid's "Sucker Punch" which just came out. How are you balancing your own work versus songwriting, which has been such a big part of your career so far?
I'm still fully doing both and probably will always be doing both. I'm actually going in a week, a little more than a week to finish up Sigrid's album with her and a few other songs I'm gonna just, see what else we can get before they close the album, yeah I've done a bunch more with the Chainsmokers, Clean Bandit, Rita Ora, like bunch of different writing stuff going on and will definitely continue to do both and just kind, I don't know if there's a recipe to the exact balance but, just kind of what comes up. Weighing the options and trying to choose the right thing.
Where are you mostly based these days?
I've been living out of a suitcase now for almost five years, between New York, where my family is, and LA and London and kind of just anywhere. But I'm moving to Wyoming.
Oh my god. Why?
Just... 'cause it feels right, no good reason.
Where in Wyoming?
Just outside of Jackson.
Are you're gonna live with like, friends, coworkers...?
No, I'm fully living alone. And don't know anywhere there. [Laughs]
I was going to say, I bet you get asked which you like better between New York or L.A., but… Wyoming. Sounds like a great third choice.
Yeah [laughs] Exactly. Out of those two, Wyoming.
My last question is who is your dream collab?
Definitely Rihanna. And I literally say this in every single interview, so hopefully one day, she'll read one of these and allow me in.
You're like, "Rihanna, put me in, coach."
Please. I'm ready.