Last night on The Bachelorette, Emily Maynard was on the gorgeous and romantic island of Curaçao with three dudes and a camera crew. The sky was clear blue, the water was crystal clear, the weather was perfect. During a camera-ready intimate beach blanket dinner at dusk, Emily looked deep into the eyes of a man she's been making out with for a few weeks, and told him she wouldn't spend the night with him. After that, she stripped until she was wearing a few scraps of fabric arranged like a bikini and French-kissed him in a hot tub. Then she sent him away without any sex, explaining to the camera, "it just doesn't line up with, like, what I believe in." The dude, Sean, who told the audience, "I'm gonna end up marrying that girl," was subsequently eliminated from the show. You might think she didn't use the Fantasy Suite for boning, as ABC and the producers intended, because she was about to kick Sean off the show. Nope! She declined to spend the night with Jef and Arie as well.
Usually, when it's down to the final three and the producers send the singletons to an exotic vacation spot, the Bachelor or Bachelorette spends the night with the top three contestants in a Fantasy Suite. And even though Emily spent the night in a fantasy suite a few years ago, when she was on The Bachelor, she decided, this time around, that there's something wrong with spending the night with the three men you're contractually obligated to get engaged to.
When it came to Jef With One F, Emily didn't really turn him down, because he did it for her. He mentioned her kid and his family and how he plans on spending every night with her in their own little Fantasy Suite, and the whole rigamarole sounded like some kind of Christian Mingle ad for the Afterlife. Even though it seemed kind of like cheating, Jef With One F and Emily did hang out for a while in the Fantasy Suite without having any sex. Which is improper use of the Fantasy Suite. Em and Jef ignored the bed and the clawfoot tub and some other sexy sex things some poor production assistant had spent a lot of time setting up for them, and really, it was a tragic waste of effort and rose petals.
When it came to Arie, Emily didn't even offer him the option of going into the Fantasy Suite for some light frottage. Arie is hot, see, and Emily can't trust herself not to mount him and ride him like a pony. As a role model, she can hold him closely and kiss him, but she can't have sex with him, because role models DO NOT have sex. Fact! A role model can fly to the Caribbean with three men and swap spit with them, though. Totes cool.
In a post for People, Emily writes:
I swear I was anxious thinking about fantasy-suite dates even before agreeing to be on The Bachelorette. On the one hand, it's great because you get that extra time to talk with the final three guys away from the cameras.

But on the flip side I know what "fantasy" is implying, and I'm not totally comfortable with that.
G/O Media may get a commission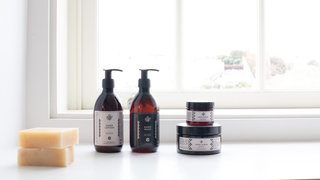 Exfoliate and Hydrate
The Handmade Soap Company
What if your fantasy is to fall asleep in each others arms? What if your fantasy is to stay up all night playing Scrabble? Why does "fantasy" have to mean P-in-V? And what's wrong with a "fantasy" involving loud, intense, marathon sex? We'll never know. And we'll never know why it was okay for Emily to bang Brad in 2011, but not get her rocks off with one (or all!) of the dudes she's smitten with in 2012.
As one viewer ranted,
WHO BUYS A CAR WITHOUT DRIVING IT FIRST ?? I am Just Saying !! I am gonna drive it, dent it, race it, break it then if I like It I will buy it !! But no way am signing on the dotted line before testing it out ! I DONT WANT A LEMON = Call me crazy !!
Anyway, it seems pretty clear that Emily is going to pick Jef With One F because they both like guns and thinking about their parents watching them having sex and he actually got inside the Fantasy Suite, which is like third base in Emily's — and all role models' — world.
The Bachelorette: Emily Maynard Blogs About Fantasy-Suite Anxiety [People]
'Bachelorette' recap: Emily forgoes fantasy suite in Curaçao [LA Times Show Tracker]
Bachelor Nation sounds off on Emily Maynard's choice to not use fantasy suites [Examiner]
The Bachelorette: Episode 9 [ABC]